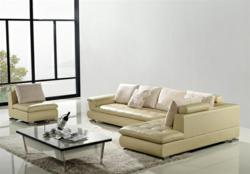 For living room furniture, one of the most popular trends is sectional sofa sets.
Minneapolis, MN (PRWEB) September 04, 2012
DefySupply has expanded their collection of inexpensive modern furniture for the fall season. The fall line features several new items—from a new modern sectional sofa to glass dining sets to acrylic bar stools—to fit all budgets, styles, and rooms.
The DefySupply fall furniture line features the latest industry trends. Emerging trends vary from the specific furniture pieces, like sectionals, to the specific materials and textiles, like leather or velvet, to the style. This season, DefySupply is carrying the most up-to-date trends by room, piece and style.
For living room furniture, one of the most popular trends is sectional sofa sets. Whether it's a microfiber sectional sofa or a modern leather sectional, these sofas are becoming more in demand due to their versatility, comfort, and affordability.
When it comes to bedroom furniture, leather furniture is also popular. Leather bedframes and headboards are among the latest fall trends and DefySupply's inventory of inexpensive modern furniture.
DefySupply reviews last year's sales and popular items to determine fall trends, as well as social networking sites like Pinterest and Twitter. The DefySupply Pinterest and DefySupply Twitter aggregates content and images of emerging fall furniture trends to share with their followers.
About DefySupply
DefySupply, headquartered in Minneapolis, is a bridge allowing everyday consumers to buy directly from the world's top manufactures at a fraction of the cost. Check out DefySupply reviews to read what customers are saying and learn more about the company. Follow DefySupply on Twitter for daily updates.