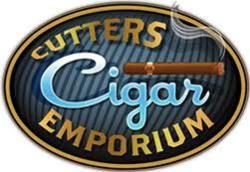 Cutters Proprietors speak passionately about how, "conversations over a cigar" has changed their lives for the better.
Alpharetta, Georgia (PRWEB) September 05, 2012
Cutters Cigars Emporium is proud of their new arrivals just in time for their grand opening. They are now carrying Graycliff Cigars, La Palina Cigars, La Duena, Viaje EP Carillo-The Inch, Padron-60 Ring Gauge Cigar, Perdomo Cigars-Patriach & 20th Anniversary, Havana Honeys and Tatuaje Cigars. These new lines will compliment other brands they carry such as: Rocky Patel, Havana Honeys, Don Carlos, Don Peplin, Arturo Fuentes, Kristoff, Ashton, Oliva, Alec Bradley, AVO and Jaime Garcia to name a few. This shop has also earned the distinction of being the only recognized "My Fathers Lounge" located in the state of Georgia.
Cutters Cigar Lounge is very elegant and sophisticated similar to their fine line of cigars. This new Alpharetta Cigar Lounge's setting is extremely comfortable in that they provide their guests with a nice place to relax and enjoy a good smoke & conversation. Browse their cigar accessories line and discover some unique items that will impress even the biggest cigar enthusiast.
Cutters Cigars offers enthusiast an additional choice when they need to escape the hassles of everyday life in the metro Atlanta area. Travelers looking for a cigar shop now will be pleased to discover this upscale lounge as a place to unwind from a long trip.
The shop is owned by Russ Sutton (President of Monolith Hospitality) and Kirk Nowery (Chief Strategic Officer of Monolith Hospitality). Both Russ and Kirk have warm memories associated with cigars. They speak passionately about how "conversations over a cigar" has changed their lives for the better. This led them to the decision to open their own cigar lounge in hopes that others can have the same experience. The Managing Partner is Frank Madonna who is always up for some good conversation and shares a passion for cigars.
So if you are looking for a new cigar shop in Atlanta, discover Cutters Cigars. The shop is alluring and the humidor if full of the finest cigars you have ever seen. Stop by and treat yourself or a friend to a great smoke. Remember to ask about our New Arrivals!
This was released by Click Ready Marketing an Atlanta Internet Marketing Agency