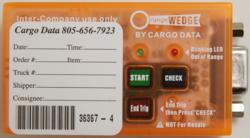 Orange Wedge is fully compatible with Cargo Data's free KoldLink desktop application which provides instant temperature chart viewing and analysis.
Ventura, CA (PRWEB) September 05, 2012
Cargo Data Corporation has released the innovative, low-cost, Orange Wedge digital temperature recorder designed specifically for monitoring inter-company transfers and cross-dock movements in the perishable food industry.
Cargo Data Corporation, a leading supplier of digital temperature monitoring solutions for the perishable food, floral, chemical, and pharmaceutical industries, has responded to customer requests by engineering the Orange Wedge for this very specific transfer application. While frequently overlooked in calculations of truckloads shipped, inter-company transfers frequently account for a very significant number of truckload shipments for many firms that produce raw material at one location and process at a second location several hundred miles away. In an effort to keep internal costs low, these firms have requested ultra-low cost temperature monitoring devices with only the most essential features for inter-company transfers.
Orange Wedge is equipped with an LED out-of-range alert. This vital feature allows unloading staff at the Receiving dock to immediately determine if an inter-company transfer shipment has experienced out-of-range conditions during transit. Orange Wedge is also designed to dock with Cargo Data Corporations handy Express handheld data retrieval unit.
Orange Wedge is fully compatible with Cargo Data's free KoldLink desktop application which provides instant temperature chart viewing and analysis. KoldLink also shunts temperature data to Cargo Data Corporation's exclusive UpLink cloud data access facility. From the Cargo Data Corporation website, Quality Control/Food Safety staff can access temperature data from an inter-company transfer shipment almost immediately by simple entering the unique temperature recorder ID number in the UpLink field on the homepage. UpLink also archives the in-transit temperature data for future internal or third party Food Safety audits.
Use of UpLink is entirely free and does not require log-in credentials of any type—data can be accessed simply by entering the same recorder number that is typically listed on all shipping documents. UpLink is a key time-saving feature when settling disputes with carriers—no need to email/fax temperature charts since the non-editable data is available online for all to see!
Orange Wedge is available for immediate shipping. Contact Cargo Data Corporation to place your order today at 800-338-8134.
About Cargo Data:
Cargo Data Corp provides industry-leading cold chain monitoring solutions for firms involved in the perishable food, chemical, pharmaceutical, and floral industries. Cargo Data's goal is to simplify the process of monitoring temperature during transit, storage and distribution. Cargo Data encourages the recycling of its digital temperature recorders in an effort to keep tons of circuit boards, batteries, and other pollutants out of landfills. Rebate programs for returned recorders are available.