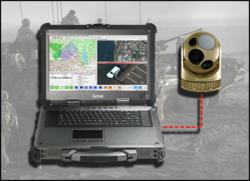 Our software seamlessly integrates the World's leading electronic sensors, bringing their full ISR potential to bear.
Halifax, Nova Scotia (PRWEB) September 05, 2012
As the global demand for rapid, intelligence-led mission data continues to grow, CarteNav Solutions Inc. has responded by producing robust, cost effective solutions to provide more intelligence, surveillance, and reconnaissance (ISR) data to the operator when and where it is needed.
The AIMS Family of Products developed by CarteNav achieves this by producing an innovative user-customizable moving map display, and mission and sensor management system, with advanced sensor display and control capabilities. CarteNav's products also offer a wide range of enhanced real-time, near-real time, and post-mission data analysis capabilities. These products are targeted at the military and domestic security markets.
A key attribute of CarteNav's software solutions is the way in which our software enhances surveillance Sensors, such as Radar and EO/IR Imaging Systems. The result of that collaboration is unequalled situational awareness for ISR missions in the Airborne, and Maritime domains. Further, by leveraging its success in the air and at sea, CarteNav has advanced it's product line to deliver the same caliber of ISR capability to the ground-based surveillance and reconnaissance domain.
"Regardless of the aircraft, vehicle or platform you operate, our software seamlessly integrates the World's leading electronic sensors, bringing their full ISR potential to bear," says CarteNav's co-founder, Michel Lechmann.
To demonstrate the operational value of their solutions at DEFSEC Atlantic 2012, CarteNav Solutions Inc. and L-3 WESCAM will be showcasing the ground-based MX-10GS High Definition (HD) EO/IR Imaging System from a High Mobility Multipurpose Wheeled Vehicle (HMMWV). Wescam's MX-10GS will be mounted on a telescopic Will-Burt mast extended from the 'Humvee', with the turret operated from the ground, both by the MX Hand Controller and via the AIMS-HD System supplied by CarteNav Solutions.
CarteNav has an impressive track record when it comes to supporting Government of Canada Projects, and hopes to add to this success by offering capability and value to future Canadian projects such as Fixed Wing Search and Rescue (FWSAR) and the Arctic Offshore Patrol Ships (AOPS).
"We are well established in the Airborne and Maritime domains and continue to deliver value there, " says Lechmann. "Additionally, we now offer ground-based solutions that are ideal for the ground combat, reconnaissance, and force protection roles."
DEFSEC Atlantic takes place September 5th to 7th at the Cunard Center. Visit the CarteNav staff at the open air Humvee Static Display, or inside at CarteNav's Booth #105.
About DEFSEC Atlantic 2012
DEFSEC Atlantic 2012 is Atlantic Canada's premiere Defence and Security exhibition. The annual event is held in Halifax, Nova Scotia, and offers a unique opportunity to meet Defence and Security experts from Canada, the United States, and the United Kingdom.
About CarteNav Solutions Inc.
CarteNav Solutions Inc. is an international leader in situational awareness solutions for the maritime, land, and air environments. Founded in 2002, CarteNav offers operationally proven data integration and display technologies that dramatically improve performance of both sensor operators and tactical decision makers. The Company has established a reputation for creating robust software solutions, within a timeframe and cost structure, which deliver unparalleled responsiveness and value to its customers. CarteNav's global client base includes agencies from the national defence, public safety, and commercial sectors.
CarteNav's success is predicated upon its people and its dedication to continued innovation, guided by well thought out and focused research and development. An ISO-9001:2008 registered company, CarteNav's technical expertise in sensor management, graphical user interfaces, map technology and systems integration is underscored by an unwavering commitment to customer service and quality.