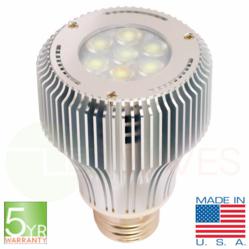 Brooklyn, NY (PRWEB) September 05, 2012
NYC-based LED Waves is offering an introductory 10% discount on the Dallas 2.0 Dimmable PAR20 LED light bulb: a <9 Watt replacement for a 75 Watt halogen spot light, typically used in track lighting or recessed ceiling cans. Designed and built in the USA, this bulb is similar to the company's original LED PAR20 in both form and function. Both bulbs are LED Lighting Facts Products, having undergone impartial testing by the US Department of Energy CALiPER program.
LED Waves' exclusive LED PAR spot light bulbs are easily identified by their aluminum heat sinks, each featuring the company's proprietary design. The intricate forms are machined using Computer Numeric Control technology (a 3D printing process for metals), which maximizes surface area for heat dissipation. A custom-engineered lightweight aluminum board further supports thermal management. These measures reduce stress on the dimmable LED driver as well as the chips, significantly extending the lifespan of the whole light bulb. The Dallas comes with the company's 5 Year Warranty.
The Dallas PAR20 was originally made with Cree's XLamp XP-G LED. The first chip to accrue 10,000 hours of LM-80 test data, the XP-G shattered the industry's conceived efficacy barrier at over 144 lumens per Watt. The XB-D is the latest breakthrough in Cree's line of LEDs optimized for PAR spot lighting, combining the XP-G's light quality and efficiency with a 50% smaller footprint. Representing the brand's SC³ Technology Platform, the XB-D was developed with a silicon carbide base - a material that is as conductive but more widely available than the sapphire substrates traditionally employed by LED makers.
As a retailer and a manufacturer, LED Waves cuts out a number of middlemen in the lighting supply chain. This saves roughly a third of production costs while also boosting quality control. They are thus in a position to offer higher end LED lamps at low prices previously unavailable to end users. Online, the everyday low price of the Dallas 2.0 is $35.95; with the current sale it is $4 off, bringing each unit down to $31.95. It is also one of the selected American-made light bulbs eligible for LED Waves' free shipping promotion. The company's goal is to encourage widespread adoption of this energy-saving technology, which has long been associated with high upfront costs and cut-rate offshore manufacturing.
LED Waves manufactures their PAR20 with beam spreads of 20° and 40° and color temperatures of 3000K (warm-ambient), 4000K (neutral) and 5000K (cool-daylight). For factory-direct pricing and custom specifications for large quantity orders, call 1(800)986-0169.
This spot light is an exciting new addition to LED Waves' growing line of affordable, energy-saving lamps designed and built in the USA. The line currently includes an LED recessed down light, 2ft and 4ft LED T8 tubes, an industrial LED high bay, a 12v LED MR16, and other line voltage PAR LED flood light bulbs. Moving forward, the company plans to offer an American-made retrofit LED solution to meet all commercial, industrial and residential lighting needs.