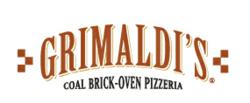 The best complement to a great meal is a delicious dessert.
Mount Pleasant, SC (PRWEB) September 06, 2012
Grimaldi's Pizzeria, famous for its award-winning, hand-tossed, coal-fired brick oven pizzas and calzones, is offering a slice of cheesecake for only $1. From Sept. 3 - 11 guests can enjoy a slice of homemade cheesecake: New York Style, Oreo Cookie, Chocolate (seasonal) or Caramel Apple (seasonal) at the special price. Cheesecakes are prepared fresh daily and are available at all Grimaldi's Pizzeria locations.
"The best complement to a great meal is a delicious dessert," said Cory Lattuca, corporate chef of Grimaldi's Pizzeria. "We invite you to grab a fork and fall in love at first bite."
The special price is available by signing up for the coupon on Facebook, on Twitter at http://www.twitter.com/grimaldispizza or sign-up to become a Grimaldi's VIP at http://grimaldispizzeria.com/newsletter. Guests will receive a coupon that may be used for the special pricing and will be applied on orders of $25 or more. Only one slice of cheesecake at this special price is available per check.
Grimaldi's Pizzeria's South Carolina location is 1244 Belk Drive in Mount Pleasant Towne Centre, Mount Pleasant.
About Grimaldi's Pizzeria:
In the world of pizza, Grimaldi's is an institution that has garnered more awards than any other pizzeria in the country with more celebrity sightings than most 5-star restaurants. Using only the freshest ingredients, a "secret recipe" pizza sauce, handmade mozzarella cheese and dough, Grimaldi's serves traditional pizza (as it began in Naples, Italy) in an upscale yet casual, family oriented pizzeria. The intense heat of the oven evenly bakes the pies to create Grimaldi's famous crispy and smoky thin crust that Zagat has voted best pizza year after year.