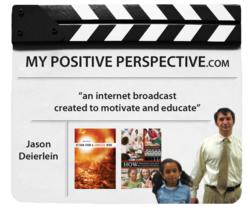 The brain damage I suffered from a car accident was really a single blow to the head, but with a football injury"
Charleston, SC (PRWEB) September 05, 2012
September 5, 2012, marks the start of the National Football League season, and that makes it a great time for My Positive Perspective to share a speech an NFL spokesperson made at an event conducted by the South Carolina Brain Injury Alliance. While speaking on laws proposed by lawmakers that would include stricter 'return to play' guidelines, the spokesperson said, "The National Football League has strict return to play guidelines for some of the best athletes in the world, and believes the same should be true for some of its youngest."
"Early treatment and diagnosis of a concussion or any other type of brain injury is paramount in minimizing the short and long term damage to the brain." My Positive Perspective host Jason Deierlein, says. "The brain damage I suffered from a car accident was really a single blow to the head, but with a football type of brain injury, you are probably assuming we would be referring to a multiple blow kind of injury." Short term memory loss was what this car accident survivor suffers from now, but wants people to keep in mind that sports are necessary in the development of children. It aids in the development of their minds and bodies by allowing it to enjoy exercise.
During the well thought out speech, the spokesperson from the National Football League said, "The NFL is taking a lead role in addressing the issue of concussions in football. We put player safety first and want to help do the same with athletes at all levels of football." Deierlein was impressed with the speech and wanted to say, "Thank you, the presence of your organization at our state house was greatly appreciated." Deierlein was a Political Science graduate and would be "more than honored" to help out with this effort as well.
My Positive Perspective is committed to the achievement and improvement in life. Believing that the overall human will is to improve ourselves and each other. This internet talk show exists for the purpose of best educating the public on how this can best be done.