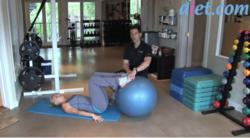 "We strive to continue to produce a wealth of quality video fitness and health content for our viewers, alongside all of the blogs, articles, tips and recipes found on Diet.com." - Lauren Alford, Diet.com Director of Business Development
Brookline, MA (PRWEB) September 05, 2012
Diet.com, one of the web's leading resources for diet, fitness, and nutrition content and tools, has announced that the fitness and recipe videos on its diethealth YouTube channel have recently surpassed 100 million total views.
Diet.com has been creating exclusive "Diet.com Video" content in-house since 2006 and in that time has produced nearly 550 videos. The diethealth YouTube channel currently has over 117,000 subscribers and uploads a new instructional fitness video or healthy recipe video every Monday. The channel officially reached 100 million views in early August.
"Diet.com Video and our diethealth channel have been such an important part of the Diet.com brand, and we're very proud to see how much the program has grown over the years. We couldn't have done it without our subscribers," says Lauren Alford, Diet.com's Director of Business Development. "We strive to continue to produce a wealth of quality video fitness and health content for our viewers, alongside all of the blogs, articles, tips and recipes found on Diet.com."
In honor of the milestone, Diet.com plans to run a giveaway later this month for their diethealth subscribers. Prize package details will be revealed in the next several weeks, and will be announced on the diethealth channel. Read more about the upcoming giveaway and view their video announcement here: Diet.com's 100 Million Views Milestone + GIVEAWAY
Diethealth has been mentioned in The Washington Post and Shape Magazine. Their fitness videos have featured fitness trainers such as Katrina Hodgson and Karena Dawn (now of ToneItUp.com fame), Stephen Cabral, Cassy Ho, Tyler Duckworth (former Real World cast member), Hanneke Antonelli, Jessica Bergenfield and more. Their recipe and diet focused videos have even featured pre-Real Housewives Bethenny Frankel. The channel's videos are headed up by long-time host Sarah Dussault, herself a certified personal trainer.
Click here to subscribe to the diethealth YouTube channel.
About Diet.com:
Diet.com is a multifaceted health and wellness organization that provides quality information and cutting edge tools and services to consumers and businesses alike. Since its founding, Diet.com has been a valuable online resource for dieters and those seeking information on living a healthy lifestyle. As one of the web's leading resources for diet, nutrition, and fitness content and tools, Diet.com has created a platform where consumers are able to set and track diet and fitness goals, browse over 1,000 healthy recipes, learn new exercises, and interact with others in the thriving Diet.com online community. The diethealth YouTube channel (http://www.youtube.com/diethealth) has a library of over 500 videos, over 117,000 subscribers, and has received upwards of 100 million views. For any inquiries please contact Lauren Alford, Director of Business Development, at LaurenA(at)diet(dot)com or 919-616-7532.