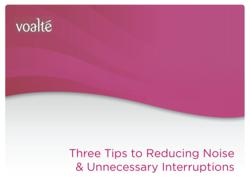 Sarasota, FL (PRWEB) September 06, 2012
Noise and unnecessary interruptions are a common occurrence in U.S. hospitals, often causing distractions at the point of care. In its latest white paper "3 Tips to Reducing Noise & Unnecessary Interruptions," Voalte, a leader in clinical communications technology, tackles the causes of point–of-care interruptions and shares ways hospitals can use smartphones to reduce disruptions and still maintain effective communications and workflow.
According to the report, pagers, alarms, hallway conversations and other sounds contribute to distracting noise and interruptions that can be frustrating in a patient care environment. The report cites studies that shows "each disruption is associated with a 12 to 13 percent increase in procedural error and clinical error." The report also notes "complaints about noise in patient satisfaction surveys can lead to payors lowering a hospital's reimbursement rate."
To help overcome this issue, Voalte shares three ways hospitals can reduce noise and unnecessary interruptions by implementing the use of smartphones.
1. Incorporating text messaging into the communication workflow that relays information immediately and eliminates back-and-forth missed connections.
2. Developing an alarm management strategy that displays priority and improves response time to critical alarms.
3. Utilizing one integrated communications tool that eliminates wasted time tracking people needing critical information.
The report finds that with the exception of announcing "Code Blue," smartphones eliminate the need for all overhead paging, a leading source of noise and unnecessary interruptions.
To download the full white paper, please visit http://www.voalte.com/WP-Three-Tips-to-Reducing-Noise-and-Unnecessary-Interruptions.aspx.
About Voalte
Voalte is the only company to provide a fully integrated and dependable clinical communications system that health care professionals want, enjoy and effectively use. Voalte products are designed to be intuitive, high value, mission critical applications running on the latest generation of touch-based smartphones. For more information, visit http://www.Voalte.com or call 941.312.2830.
###