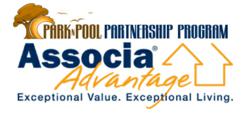 "We are thrilled to be partnering with such an exceptional company, and by offering Associa® members a website designed exclusively for them we expect the fantastic relationship we have already established to grow exponentially."
Lexington, VA (PRWEB) September 04, 2012
In early March 2012, ParknPool was presented with an opportunity to become a trade partner in the Associa Advantage® network, allowing the online distributor to work closely with property managers nationwide to fulfill any of their commercial furniture and site amenity needs – from picnic tables and pool furniture to basketball hoops and playgrounds.
Since beginning their partnership earlier this year, ParknPool has produced over $115,000.00 in sales to Associa® member properties. To further enhance the already strong bond this partnership has created ParknPool launched a website designed for the Associa Advantage® members. The site is a fully operating website; allowing members to navigate the wide selection of commercial products, color configure items, purchase through a shopping cart, and chat online with a ParknPool Account Manager. "We are thrilled to be partnering with such an exceptional company, and by offering Associa® members a website designed exclusively for them we expect the fantastic relationship we have already established to grow exponentially," explained Laura Dudley, ParknPool's Marketing Manager.
Associa® is North America's largest community services firm, and began in Dallas, Texas more than 30 years ago as a single association management firm. Over the years the company has grown to include 150 offices across the United States, Mexico and Canada. Associa® offers its property owners an incredible value added service through the Associa Advantage® network. This network leverages the purchasing power of Associa's® two million homeowners to provide exclusive discounts, of up to 65 percent, on a variety of products and services for households and the properties themselves. The Associa Advantage® network provides Associa® properties with licensed, certified and insured trade partners who can save them time and money. ParknPool works closely with the community managers to provide them with everything from indoor dining furniture for the club house, to umbrellas and chaise lounges for the pool deck, to benches and playgrounds for recreational areas. Associa® and ParknPool both work to provide clients with outstanding service, national resources and comprehensive expertise.
ParknPool began in 1998 in Orlando, Florida and since then has grown from representing one manufacturer of commercial pool furniture to now offering superior products from over 50 manufacturing companies. ParknPool's founding partners used their extensive professional experience in manufacturing and supplying products to multi-housing, hospitality, and commercial properties to create a company that has a proven track record of competence and excellent client service. Now located in Lexington, Virginia, they are the original vendor of commercial outdoor furnishings and site amenities such as picnic tables, trash receptacles, park benches, bleachers and playgrounds.
The partnership with Associa Advantage® is another way ParknPool continues to go above and beyond to exceed client expectations and enhance earnings. To learn more about ParknPool and their extensive product line call 877-777-3700 or visit http://www.parknpool.com.
About ParknPool Corporation:
ParknPool is a Veteran Owned SBE/WBE Company and is the leading online supplier of commercial outdoor furniture and site amenities such as picnic tables, trash receptacles, park benches, bleachers and playgrounds. ParknPool began in 1998 in Orlando, FL and moved their headquarters to Lexington, VA in 2005.