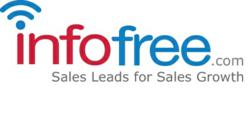 infofree.com is the best value in the sales leads industry by far.

Rakesh Gupta, President
San Mateo, CA (PRWEB) September 05, 2012
infofree.com, the leading provider of unlimited sales leads, mailing lists, and business credit reports for the low, flat price of only $49.95 per month, announced that its users have saved $56 million since the company's inception over a year ago.
infofree.com is different than any other sales leads generation tool in the industry, which charge a minimum of 10 cents per lead, all the way up to 50 cents per email address. For the unbelievable price of only $49.95 a month, infofree.com customers can access millions of leads, from new homeowners to real estate agents, and businesses with emails to gardening enthusiasts, the possibilities are endless.
"This service is the best value in the sales leads industry by far. No other company offers unlimited leads and mailing lists for such a low price, and our customers are shouting our praises," says infofree.com President, Rakesh Gupta.
infofree.com will be available for iPhone, iPad, and other mobile devices coming soon.
To try infofree, visit http://www.infofree.com or call 877-448-0101 for more information.
About infofree.com
For $49.95 per month, the service provides unlimited search and download of sales leads and mailing lists, as well as the unlimited view and print of business credit profiles and email lists of 12 million businesses, 200 million consumers and homeowners, and hundreds of other unique databases. Reach new homeowners, new movers, newlyweds, recently divorced consumers, and new businesses with real time downloading and unlimited search.
The infofree.com content is compatible with the following platforms: Oracle CRM, Salesforce CRM, Microsoft CRM, Nutshell CRM, Goldmine CRM, Sage ACT! CRM, Highrise CRM, Zoho CRM, NetSuite CRM, SAP CRM, Constant Contact, RightNow Technologies, Responsys, Vertical Response, and Dun & Bradstreet.