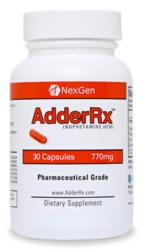 Tampa, FL (PRWEB) September 05, 2012
AdderRx is the world's first, cutting-edge, scientifically-engineered Adderall alternative; combining powerful energy compounds with cognitive enhancers. The key ingredients in AdderRx are clinically proven to sharpen cognitive abilities and improve creative thinking, information processing, attention, energy, focus and memory.
XanRx is a revolutionary anti-anxiety supplement that is a safe and effective alternative to benzodiazepine drugs such as Xanax. XanRx contains extensively researched ingredients designed to improve one's overall sense of well being and lower experiential feelings of stress and anxiety.
When asked about the launch of these new products, NexGen co-founder and CEO, Josh Carlucci, replied: "Estimates are that over 100 million people suffer from attention deficit and anxiety disorders. NexGen is excited to offer non-prescription relief to those suffering from these disorders with its new AdderRx and XanRx products."
NexGen's AdderRx and XanRx products will initially be offered for sale primarily on the company's Website, with the products launching in drug stores and retail chains across the county in 2013.
Please visit http://www.nexgenbiolabs.com for additional information and details.
About the Company: NexGen Biolabs is a global leader in the development of premier nutraceuticals and designer pharmacological supplements and strives to meet unmet health and medical needs through excellence in science. NexGen's passion and commitment to quality, safety, research and development allow it to produce the most scientifically advanced, effective, therapeutic and safe non-prescription pharmacological products currently available.