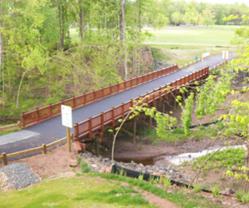 The bridge was designed with heavy timber components to achieve the capacity and durability required.
Suffield, CT (PRWEB) September 13, 2012
In early April,York Bridge Concepts, Inc. ™ (YBC) completed Suffield High School's 105-foot long Timber Pedestrian Bridge. Located in Suffield, CT and founded in 1939, this High School educates more than 900 students from its eleven surrounding towns, along with 95 regional students. This competitive school strives to foster academic excellence and responsible behavior in all students by encouraging them to be effective thinkers and active citizens. Rich with tradition, Suffield High School has been featured on "Cool Schools," has enjoyed multiple athletic championships and boasts unique spirit-building activities each year.
Suffield High School also showcases an advanced, vocational agricultural program. At the Suffield Agriscience Center, students prepare for business or college studies specific to the areas of animal science, general agriculture, plant science, agriculture mechanization or environmental science. The timber pedestrian bridge, designed and constructed by York Bridge™, allows access (from the main campus) to this 10,000-square foot large animal facility. The center has many unique and modern features like a demonstration ring that can be used for lessons or shows, multiple greenhouses, an agricultural mechanics shop, labs for small and large animals and animal housing for horses, pigs, sheep and goats.
The bridge was designed with heavy timber components in order to achieve the capacity and durability required. In addition, York Bridge™ utilized a few of their York Timber Protective Systems™ — specifically for the wear and tear of pedestrian and animal traffic: "Our pressure-treated timber is raw when it gets implemented into a bridge project; our York Timber Protective Systems ™ give it the opportunity to last for generations," stated James M. York, President of YBC.
YBC applied a black, Textured Polymer Coating (TPC) to the deck of the bridge. TPC protects wood structures from the constant expansion and contraction cycle that destroys wood and provides a slip-resistant, textured surface that is also skid and fire-resistant. "We needed to solve the issue of moving animals across the bridge and at the same time create a bridge that would last. Using our Textured Polymer Coating in this situation helped the deck hold up to the traffic."
YBC's TPC is Green — water-based, VOC-free and non-toxic. TPC increases safety for pedestrians, elongates the wood structure's life significantly and prevents wood preservatives from leaching into the environment. As another step in timber bridge protection, YBC also applied an oil-based ultra violet-resistant sealer to the structure and hand rails for protection from the sun and "the elements." The sedona-colored sealer adds to the overall aesthetics of the bridge.
Follow YBC's Timber Bridge projects on Facebook.
York Bridge Concepts, Inc. ™ (YBC) is the nation's largest on-site timber bridge builder. YBC works with industry-leading owners and developers on prestigious projects throughout the U.S. and Internationally, creating more than just a solution for crossing lakes, streams, creeks, wetlands or ravines. In this competitive real estate market, developers who want to ensure that their project stands apart from the competition use York Bridges to add value and create a feeling of exclusivity, warmth, and quality for their customers. Based in Lutz, Florida, with 28 years of experience, YBC has become well-known for their expertise and cutting-edge innovation in timber bridge design and on-site construction.
For more information, please visit YBC's website.