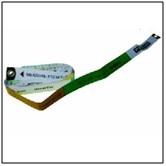 Blacksburg, VA (PRWEB) September 06, 2012
Building on the heritage of the Broselow Tape®, PediaTape takes pediatric acute care to the next level for emergency medical professionals.
PediaTape allows EMTs, nurses and doctors to provide faster, more accurate care in pediatric emergencies. It is an inexpensive color and length-only measuring tape that is based on the color coding system invented by Dr. Jim Broselow.
PediaTape improves on Dr. Broselow's original invention. Rather than look up a couple dozen doses directly on the tape, medical professionals can now use PediaTape to look up hundreds of medications found on PediaTape's free printable PDF reference guides. Alternatively, they can be found on a free app such as SafeDose® (provided by eBroselow, LLC).
Unlike the Broselow Tape®, this approach has the added advantage of showing not only the dose in mg, but also in mL for the selected concentration. Using SafeDose, medical professionals receive administration information, adverse reactions, and can document their actions on the fly.
PediaTape is a fraction of the cost of the Broselow Tape®. For more information about PediaTape and to download the free dosing guides, visit http://www.pediatape.com. The free SafeDose® app can be found on the Apple App Store or Google Play.