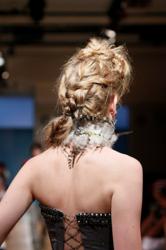 The hair story should complement the amazing work of the designers.
New York, NY (PRWEB) September 06, 2012
Pulleez ponytail holders will appear at New York Fashion Week in two shows for the Spring 2013 collections.
"We are excited to see some of our newest pieces come down the runway," said Pulleez creator Diana Wright. "The hair story should complement the amazing work of the designers."
The first collection will be presented by Jackie Christie, the reality TV star from Basketball Wives L.A. Ms. Christie will present her collection on Saturday, September 8th at 8pm at Helen Mills, 137 West 26th Street. The show will be covered by VH1 and promises to be a highlight of Spring Fashion Week. The classic collection features hair by Aveda and accessories by Pulleez.
Pulleez ponytail holders will also appear in designer Anna Francesca's show on September 9th. Following Ms. Francesca's critically acclaimed debut collection last year, the designer is sure to delight the fun-loving crowd again. Ms. Francesca's affinity for pop art and comic interpretation in relation to fashion is a welcome addition to the week. Hair by Aveda; accessories by Pulleez.
The week will kick off with the "Pulleez Pony Bar" at Henri Bendel at Fashion's Night Out on Septemeber 6th. Shoppers who purchase a Pulleez will get a complimentary ponytail styled by a Pulleez stylist.
Design-patented, Pulleez are secured by sliding hair through the elastic once. The wearer then squeezes the Pulleez while pulling the elastic to a desired tightness. There is no need to wrap the elastic multiple times as with conventional elastics. To release, simply squeeze again to open and slide it out. The design completely eliminates hair snagging.
Press inquiries please contact info(at)pulleez(dot)com.