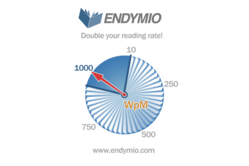 Customized lessons, efficient reading modes, web based, and available for free! Speed reading made easy by Endymio.com
Bludenz, Austria (PRWEB) September 08, 2012
Today, information doubles every two years. The current average of words read per minute for adults is about 200 to 400 words. After using a customized speed reading course, individuals have been documented reading over 1,000 words per minute. Endymio's free application is designed to significantly help increase reading speed and information retention. And it takes nothing else than a little bit practice.
endymio.com is the first platform independent online speed reading training course specifically optimized to be used on a computer, a tablet-PC or even a smartphone. Using the latest web technology to archive 24/7 availability and complete platform independency, increasing ones reading speed is possible anywhere and anytime. In connection with Gründer-Garage, a competition that showcases the power of entrepreneurship, the software and speed reading experts from Austria are developing a powerful educational tool that assesses, improves, and monitors people's reading speed, fluency, and comprehension.
In general, the goal of the speed reading online course is to break bad reading habits such as subvocalization (pronouncing the words in their minds as they read) and regression (reading passages more than once). The application also helps by expanding the eye fixation zone so one can read multiple words at a time. Users can work independently by choosing from a library of reading assessments and improvement regimens tailored to their individual needs. As Endymio supports most of Project Gutenberg provided file formats, e. g. epub, txt, pdf, doc, odt, rtf, there is already a lot of reading material available for free which can be uploaded and used for training. As each lesson is compared to the readers progress and the resulting data is used to individualize subsequent training sessions, which makes learning to read faster very efficient.
Endymio provides a lot of advantages that makes it a powerful tool for improving the average reading rate. The main advantages are customization, allowing different training modes to be adjusted individually, platform independency allows for training whenever and wherever, and, not to forget, the tool is completely free. Endymio already includes many useful training sessions and more will be implemented in the coming months. More detailed information regarding the training modes and their implementation can be found on the pitch page of the crowdfunding platform Indiegogo at http://www.indiegogo.com/endymio. Within the next few weeks the documentation giving an overview of the training lessons will also be published on http://www.endymio.com.
As reading fast becomes more important to pace with the growing amount of digital information, using a speed reading course will benefit more and more people around the world. Free education for the crowd which in return funds the completion of the educational tool. This is Michael Holl's vision and crowdfunding can make his vision come true.
Currently, Endymio is accessible only to selected members. The first beta test, held exclusively for indiegogo supporters, will start at the end of October.
As late as mid to the end January 2013 the first public beta test phase will enable people from around the world to improve their reading speed and keep pace with growing digital information.
Michael Holl, the initiator of the project, is inviting the press to participate in the beta testing as well. Please contact Michael in case you are interested in one of the limited test accounts available for editors and journalists. Take this opportunity and recognize by yourself how this tool can speed up your reading.
To learn more about Endymio visit http://www.endymio.com or our pitch page at the crowdfunding website http://www.indiegogo.com/endymio. If you have any queries about the tool itself or the funding campaign, Michael Holl will be happy to answer all your questions in detail via email or phone. Contact: Michael Holl, Judavollastr. 6A/Top6, A-6707 Bürs, Austria, Phone: +43(0)664/344-33-33, Email: contact (at) endymio (dot) com.
Endymio is an Austrian software development company located in Vorarlberg. The software developers are specialized in programing speed reading applications which are easy-to-use, intelligent, and customizable. With Endymio they have programed their first platform independent speed reading training course currently in beta test phase. The speed reading application is a powerful educational tool and available via Internet free of charge. To complete the prototype and market their tool efficiently, Endymio is relying on crowdfunding using Indiegogo.com.
Gründer-Garage, the collaboration between Google, Indiegogo and Stiftung Entrepreneurship, is a competition that showcases the power of entrepreneurship. Gründer-Garage combines an online training program with the use of crowdfunding to validate innovative entrepreneurial concepts. Google will award matching funds to the leading projects on October 12, 2012.