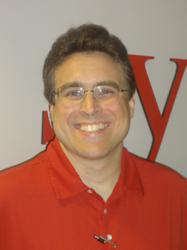 Patrick Knorr, former Sunflower Broadband and American Cable Association exec, will join Mid-America Cable Show panel, "State of TV Everywhere & OTT Services"
BUFFALO, NY (PRWEB) September 05, 2012
Synacor, Inc. (NASDAQ: SYNC), leading provider of next-gen startpages, TV Everywhere solutions and cloud-based services, today announced it has hired Patrick Knorr, recently featured in CED Magazine, as General Manager, Regional Accounts. Knorr will be addressing The Mid-America Cable Show at 8 a.m. on Wednesday, September 5, at the Branson Convention Center, Branson, Missouri.
Knorr, who brings to Synacor a wealth of knowledge in independent telecommunications and vast experience from Sunflower Broadband and the American Cable Association, will join the "TV Everywhere" panel to discuss the current state of TV Everywhere and over-the-top services. Knorr will specifically address how platforms like Synacor are driving TV Everywhere adoption and providing new ways to access content, especially coming off the heels of a successful NBC Universal Olympics TV Everywhere implementation, where Synacor's 35+ Olympics TVE customers spanned all 50 states, with a reach of 25 million subscribers—the largest Olympics TVE footprint.
Other speakers will include Steve Fox, CableONE; Doug Hull, NCTC; Jaime Montes, SureWest Communications; and panel moderator, Ed Frazier, RFD-TV.
Prior to his current position, Knorr was chief operating officer at Sunflower Broadband, a multimedia (cable, broadcast, newspaper and Internet) company based in Lawrence, Kansas. He has served in both formal and informal leadership roles with the American Cable Association, CableLabs, NCTC, Mid-America Cable, and KCTA.
In May, Knorr was included on CableFAX's Digital Hot List 2012 as one of the pioneers who first brought services including VOD, DVR and other emerging technologies to the independent sector. He also was named Indie Strategic Thinker of the Year by CableFax in 2008, and included in Multichannel News' 40 Under 40 Top Cable Executives list in 2006.
For more information on Synacor's startpage, TVE and cloud-based services, please visit synacor.com or email sales (at) synacor (dot) com. Synacor reaches over 23 million households, tallying a monthly average of 20 million unique visitors and 3.7 billion ad impressions.
About Synacor
Synacor's white-label platform enables cable, satellite, telecom and consumer electronics companies to deliver TV Everywhere, digital entertainment, cloud-based services and apps to their end-consumers across multiple devices, strengthening those relationships while monetizing the engagement. Synacor (NASDAQ: SYNC), is headquartered in Buffalo, NY. For more information, visit synacor.com.
Integrate. Authenticate. Engage.