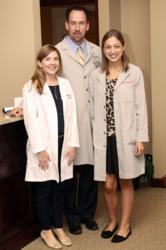 Oswego, IL (PRWEB) September 06, 2012
Oswego Vision announces its 25th anniversary serving Oswegoland and the surrounding communities with specialized eye care services. The company was founded in 1987 by Dr. Alan E. Hein with the vision of offering personalized, quality eye care to the community at reasonable prices. Over the years, the company has expanded and moved its office space from Oswego's Main Street to its current location on Templeton Drive. Oswego Vision Ltd. will celebrate its anniversary with an open house on September 20th from 4:00pm-7:00pm. Refreshments will be served.
As part of the anniversary celebration, Oswego Vision Ltd. announces a partnership with the Essilor Vision Foundation and the Adopt-a-School program. The program kicks off this fall, and Oswego Vision Ltd. will participate by sending eye doctors into Oswego public schools to provide free on-site eye exams and glasses to children in need.
"We can't think of a better way to celebrate 25 years than by contributing back to our community that has supported our business," said Dr. Hein. "We believe anyone who has eye issues should have services available to help them see well, and that's also the mission of the Adopt-a-School program."
In addition to Dr. Alan Hein, Oswego Vision Ltd.'s team of reputable doctors includes Dr. Sarah Frassato and Dr. Victoria Wenzel. Oswego Vision Ltd. utilizes advanced optical technology in a state-of-the-art facility, providing eye and contact lens examinations and emergency services.
About Oswego Vision
Oswego Vision, Ltd. provides professional eye care for patients who live in Oswego and surrounding communities. Patients benefit from highly specialized eye care in a high-tech facility featuring the latest optical technology. The diagnostic instruments we use are the same sophisticated tools often found in expansive medical clinics. We offer personal eye care at prices that are often lower than at chain vision centers. Oswego Vision Ltd. is located at 83 Templeton Drive, Oswego, IL 60543. To learn more, contact us at http://www.oswegovision.com or call 630-554-8002.