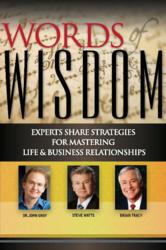 Sevierville, Tennessee (PRWEB) September 06, 2012
Steve Watts, keynote speaker and author, has been selected from a nationwide search to be featured in Words of Wisdom; a highly successful book series from Tennessee-based Insight Publishing. The book features best-selling authors Dr. John Gray (Men Are From Mars, Women Are From Venus) and Brian Tracy (Million Dollar Habits). Steve Watts, Gray, and Tracy are joined by other well known authors, health experts, and speakers, each offering time-tested strategies for success in frank and intimate interviews.
Stephen Watts has been a "Retirement Phase Financial Specialist" since 1997. Throughout his career Mr. Watts has been instrumental in developing retirement phase, educational business models for three large financial firms. He is currently the Co-Founder and CEO of Oak Harvest Financial Group, which is one the fastest growing financial firms in Houston, TX. They are successfully utilizing a system that is the evolution and culmination of his 15 years of experience in the retirement industry.
Mr. Watts is the co-host of a popular talk radio program called "The Retirement Rescue Show." The show broadcasts the educational spirit of Oak Harvest to a host of retirees throughout the Houston area.
He is also the author of Retirement Rescue: The Book, which portrays the common sense approach to retirement-phase decision making, such as how to remove risk from your portfolio without removing reasonable growth and how to choose the right advisor in your golden years.
For more information on Steve Watts and to order your copy of Words of Wisdom, contact:
Oak Harvest Financial Group
7670 Woodway Dr, Ste 165
Houston, TX 77063
1-800-773-1768
info(at)oakharvestfg(dot)com
http://www.oakharvestfg.com
Photo:
http://www.prlog.org/11848821/1
# # #
Insight Publishing has been creating innovative projects for creative people since 1990. In many ways, we've been running "under the radar" quietly going about our business one client at a time. Recently we decided to begin telling our story with a little more fervor. Visit our website for more information http://www.insightpublishing.com
--- end ---