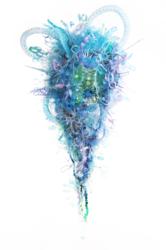 Columbus, OH (PRWEB) September 05, 2012
Franklin Park Conservatory and Botanical Gardens will host the largest exhibition to date of the work of Aurora Robson, an artist and advocate for plastic pollution awareness. Robson predominantly uses materials from the waste stream to create transformative works and large sculptures, installations and collages. For example, Robson's piece Be Like Water is an installation made of more than 9,000 plastic bottles and 80,000 plastic bottle caps. Be Like Water will be part of Sacrifice + Bliss: Aurora Robson, opening on September 9, 2012, at the Conservatory.
Robson has exhibited internationally in museums, galleries and public spaces. Sacrifice + Bliss will not only be her largest exhibition to date, but it will also be her first in a botanical setting.
"The Conservatory is thrilled to introduce Aurora Robson to central Ohio as the first botanical garden to exhibit her work," said Bruce Harkey, executive director of Franklin Park Conservatory and Botanical Gardens. "Aurora's artwork and message are perfectly aligned with the Conservatory's goals of providing educational and cultural experiences that are inspired by the natural world."
Sacrifice + Bliss features nine large-scale sculptures displayed throughout the Conservatory's botanical collections, with paintings, collage, and smaller works on view in the Cardinal Health Gallery. Works include Kamilo, a 4 ½-foot tall sculpture created out of plastic debris that washed ashore on the southern point of Hawaii. If sold, proceeds from Kamilo will go to the continued clean up in Hawaii and to raising awareness about plastic pollution.
Robson spent three weeks in residency at the Conservatory in June. With assistance from students of Columbus College of Art and Design, Robson created a site-specific sculpture from plastic debris collected through local river and park clean-ups. The piece is named The Quality of Mercy, inspired by a quote from Shakespeare's The Merchant of Venice, and is currently displayed in the Conservatory's Himalayan Biome. If sold, full proceeds from the piece will also go to organizations that raise awareness about plastic pollution and assist in the continuation of clean-ups of local rivers and parks.
Conservatory patrons can meet Aurora Robson on opening day of Sacrifice + Bliss, September 9, from 3–5pm in the Cardinal Health Gallery. More information about Sacrifice + Bliss is available online at: http://fpconservatory.org/robson.htm. The exhibition will run through April 28, 2013.
About Aurora Robson
Aurora Robson is a multi-media artist known predominantly for her transformative work interrupting the waste stream using plastic debris, excess packaging and junk mail. A Canadian, Robson was born in Toronto in 1972 and has lived and worked in New York City for the past 21 years. Robson grew up in Maui, Hawaii. Her work has been featured in Art in America, Art & Antiques and recently the cover of Green Building + Design magazine. She is a recipient of the Pollock Krasner Grant, a New York Foundation for the Arts Fellowship in sculpture and numerous other grants and awards. A "subtle yet determined environmental activist", Robson has exhibited internationally in museums, galleries and public spaces. She earned an B.A. in visual arts and art history at Columbia University, and is the Elizabeth Kirkpatrick Doenges Scholar/Artist for 2012. She has taught photography, welding & sculpture and gives lectures and talks around the country. As an advocate for plastic pollution awareness, Robson is the founding artist of Project Vortex, an international collective of artists, designers and architects who also work with plastic debris. When she isn't working in her studio, she can be found contemplating and enjoying the universe with her husband and daughters. http://www.aurorarobson.com
About Franklin Park Conservatory and Botanical Gardens
Franklin Park Conservatory and Botanical Gardens offers botanical collections, art and nature-based exhibitions, plant shows, and educational programs for all ages. Situated in an 88-acre urban park, the Conservatory features the historic 1895 John F. Wolfe Palm House and 83,000 square feet of glasshouses, classrooms, and meeting and event spaces. The Conservatory owns a signature collection of glass artwork by Dale Chihuly. Light Raiment II, a permanent installation by internationally recognized light artist James Turrell, illuminates the John F. Wolfe Palm House every evening from dusk until dawn.