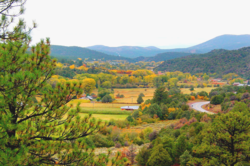 Taos, New Mexico (PRWEB) September 06, 2012
Named one of "America's Best Fall Color Drives," by Travel and Leisure magazine, visitors to Taos, New Mexico and the surrounding Enchanted Circle Scenic Byway will get to the see the area's true colors thanks to a self-guided map tour of the area, available online at the taos.org "driving tours" section. There are also several fall events which offer many opportunities for visitors to experience the colorful landscape and culture of Taos. Leaves typically begin to change color in Taos and along the Enchanted Circle between late September and mid to late October.
The stunning 84 mile, self-guided Enchanted Circle Scenic Byway tour can typically start in Taos. Along with Taos' diverse galleries and historic museums, attractions include but are not limited to: Taos Pueblo; St. Francisco de Asis Church; Rio Grande Gorge; World Earthship Biotecture Headquarters; historic Taos Plaza; llama trekking; kayaking and fishing; including many world class restaurants and shops.
From Taos, visitors will pass the lush Hondo Valley, where famous author D.H. Lawrence once lived. Wheeler Peak – the highest peak in NM at 13,161 feet – will be visible from the road. Golden aspens can be seen during the drive, along with Gambel Oaks which will be changing to a beautiful auburn color.
Continuing north to Questa, take a break in family-friendly, Red River, complete with old west saloons and a melodrama theater. Elk and other wildlife can often be spotted in Fall between Bob Cat Pass and fishing village, Eagle Nest, which offers trout and salmon fishing. Just south is Elizabethtown, established in 1870 after gold was found. A visit to Vietnam Veteran Memorial State Park located in ski/golf resort, Angel Fire, completes the tour before returning to Taos. Visit http://taos.org/outdoors/tours-itineraries?/item/15/Enchanted-Circle for a downloadable version of the drive.
Taos has dozens of arts and culture related events, as part of their annual Taos Grand Arts - a series of art events in September and October. Numerous events are scheduled. Some include:
Taos Art Glass Invitational Sept. 14–Oct. 7 – featuring artworks and narratives from women who have pioneered the studio art glass movement in NM. A high-end, all-inclusive "Collector's Art Glass Tour" is planned for a small number of connoisseurs from Sept. 20–23, by Artours. Call 575-758-4246 for details.
38th annual Taos Fall Arts Festival Sept. 28–Oct. 7 – The oldest art festival in Taos will celebrate the visual arts from more than 250 artists in Taos County. A ticketed sneak preview will take place from 4–6 p.m. on opening day, Sept. 28, followed by a free, general admission opening from 6–8 p.m. For more information, visit http://taosfallarts.com or contact Nancy Delpero at 575-613-5340 or tfavolunteer(at)gmail(dot)com.
12th annual Quick Draw and Art Auction Sept. 29 noon to 3 p.m. – Watch as 30 artists work with a variety of mediums. This year's Quick Draw has expanded to four new sites including: historic TCA courtyard and Stables Gallery; Bent Street at the John Dunn Shops; Ledoux Street at the Blumenschein Home and Museum; on the South Plaza; and on Kit Carson Road. Purchase art during a live auction. Call 575-758-2052 for details or visit tcataos.org.
29th Annual Taos Wool Festival Oct. 6 and 7 – Fiber artists and breeders throughout the SW gather for a family-friendly event featuring a handspun yarn show and contest; garment and home accessory contests; vendor booths; live animals; silent auction; demonstrations of shearing, spinning, dyeing and other skills; fleece show; and numerous workshops. Visit taoswoolfestival.org or call 800-684-0340 for details.
For maps, special lodging packages, and a complete list of events, visit http://taos.org/art/grand-fall-arts.
On Sept. 27, the ISEA2012 (Int'l Society for Electronic Arts) Symposium will host a number of events, exhibitions, presentations and demonstrations centered around "Taos Day," as part of their 18th International Symposium on Electronic Art. The ISEA2012 Albuquerque: Machine Wilderness is a symposium and series of events exploring the global discourse on the subject of art, technology and nature. For a schedule of Taos events, visit taos.org/isea2012.
For those interested in capturing the beauty of the unparalleled Taos landscape on film, professional photographer Geraint Smith is offering special "Fall Colors" photo tours in fall. Photo tours and workshops fill up quickly. Visit www(dot)geraintsmith(dot)com or call 505-501-4880 for more information.
Some of the most beautiful aspens can also be seen at Taos Ski Valley. Northside at Taos Ski Valley is offering a 2 1/2 hour "Fall Colors Tour" offering a 360 degree view of the highest peaks in New Mexico by way of 4x4 off road Jeep. The guide will share the fascinating history of the area and talk about the flora and fauna of the area – which might include an opportunity to see area animals including Bighorn Sheep, Mule Deer, Blue Grouse or Marmots. Guests will be taken into groves of Aspen trees, which would otherwise take several hours to hike, for an unforgettable experience. A maximum of four guests per group is allowed.
From Sept. 14–16, landscape and lifestyle photographer Michael DeYoung will take amateur photographers on an outdoor photography workshop titled, "Demystifying Wireless TTL Flash for Outdoor Photographers." The workshop will benefit anyone wanting to learn "speedliting." Space is limited to a group of ten.
For prices or to reserve a spot on either the "Fall Colors Tour" or photography workshop, visit www(dot)ridenorthside(dot)com or call 575-776-3233.
For more information on the Taos or the Enchanted Circle Scenic Byway drive, visit http://taos.org.
# # #