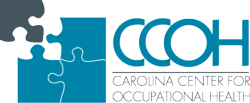 CCOH will bring the flu vaccine to your work site or you can come in and get the shot with minimal wait time.
North Charleston, South Carolina (PRWEB) September 06, 2012
The Carolina Center for Occupational Health has begun scheduling its annual series of work site flu clinics, with additional individual immunizations available at its office through the beginning of December. The vaccine to protect against seasonal influenza will be available in flu shot form at the flu clinics.
Influenza is a serious disease that can lead to hospitalization and sometimes even death. Every flu season is different, and influenza infection can affect people differently. Even healthy people can get very sick from the flu and spread it to others. Over a period of 31 seasons between 1976 and 2007, estimates of flu-associated deaths in the United States range from a low of about 3,000 to a high of about 49,000. During a regular flu season, about 90 percent of deaths occur in people 65 years and older. The "seasonal flu season" in the United States can begin as early as October and last as late as May.
During 2011, CCOH administered nearly 4,000 vaccines and is prepared to do the same or more at work sites in Charleston, Berkeley and Dorchester counties. In addition to the flu vaccine, the Tdap (whooping cough) booster shot and pneumonia vaccine will also be available at the clinics for $10 per shot.
The CDC recommends that everyone get vaccinated against the flu annually. High risk individuals, such as people over age 60, individuals with chronic health conditions, residents of nursing homes, pregnant women, parents of children under 6 months of age, children 6 months to 4 years of age, health care workers and caregivers are especially encouraged to be vaccinated, but anyone who wishes to be protected against the flu should be vaccinated as well.
FLU SHOT BENEFITS
•More than 170 million sick days are used annually because of the flu.
•On-site flu clinics make it easier and more likely that employees will get vaccinated
•A worksite flu vaccine program is a cost-effective benefit that saves companies money due to decreased absenteeism and medical bills.
Learn more about flu prevention from the Centers of Disease Control & Prevention
Call 843-554-1029 to schedule your Flu Clinic today or visit http://www.flushotcharleston.com to find out more about the flu.
About: The Carolina Center for Occupational Health provides comprehensive occupational medicine services, including: DOT Exams, Flu Shots, Drug Screens, worker's compensation care and onsite wellness services to nearly 300 companies in Charleston, Berkeley and Dorchester counties of South Carolina. Visit us at http://www.ccohcares.com.