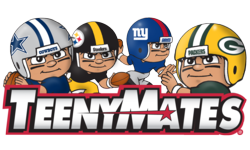 TeenyMates are new one-inch NFL collectibles from the creators of Lil' Teammates.
Westlake, OH (PRWEB) September 05, 2012
Party Animal, Inc., the company that created the successful sports action figures known as Lil' Teammates, has rolled out a new mini-collectible toy series called TeenyMates. Just like Lil' Teammates, TeenyMates are highly-detailed collectible vinyl figures suited up in the uniforms of all 32 NFL teams. Unlike their larger predecessor, however, TeenyMates stand at just one inch tall.
"Our Lil' Teammates line has been immensely successful and has grown to include over 400 figures in just the last two years," says Jim Cantrall, President and CEO of Party Animal, Inc. "We have been looking to expand upon that success in the collectible sports figures market by creating a spin-off line. At the same time, mini-collectibles have become incredibly popular among kids so we wanted to merge that popularity with the success of our Lil' Teammates. That's how the idea for TeenyMates was born."
TeenyMates are sold in blind foil bag packs, adding mystery and excitement to every purchase. Each four-piece set contains two one-inch collectible NFL quarterbacks and two puzzle pieces. You can collect all 35 double-sided puzzle pieces and build your choice of a football field display set or collectible mini-poster. In addition to the 32 NFL quarterbacks available, this series release also includes three highly-coveted rare figures. These include a Houston Oilers throwback, a metallic gold quarterback and a glow-in-the-dark figure which have been added to boost the fun and enhance the collectibility of the series.
TeenyMates were designed for kids to collect and trade, but sports fans and collectors of all ages have already shown great interest in these "pocket" passers. The Series 1 Quarterbacks 4-Piece Set has just been released and plans are already in place to add figures for MLB and NHL. NFL TeenyMates are now available at Target stores nationwide. They can also be found at NFL team shops, and sporting goods, gift and toy stores all across the country.
An interactive website, http://www.teenymates.com, has been created in conjunction with the release of the figures as a place where kids and collectors alike can go to see what's available, play games and get all the latest news and updates on TeenyMates.
###
Party Animal, Inc. is a leading manufacturer of premium quality flags, banners, collectible toys and other fan favorites for the National Football League, Major League Baseball, the National Basketball Association, the National Hockey League and over 70 colleges and universities. They have been an NFL licensee for over 23 years and have seen their company morph from a two-person operation to a full-fledged juggernaut in the licensing game. From humble beginnings as a manufacturer of party signs, Party Animal has grown to a company with over 1600 unique products and the best customer service in the business.
For More Information:
McKenna Lovelace
Marketing Coordinator
440-471-1080
lovelacem(at)partyanimalinc(dot)com