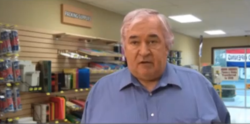 Buckley, WA (PRWEB) September 05, 2012
Buckley, WA is a beautiful rural town on the outskirts of Tacoma. It's a growing area marked mostly by the scenery that abounds throughout the State. At 135 Jefferson Avenue in a small strip mall you will find Diane's Mail Room, a cheery little brick shop with signs in the windows for FedEx, UPS, USPS, notary service. Walk inside and you'll find domestic and international shipping, key cutting, 3D printing, internet access, custom boxes and crating, gift wrap, packaging supplies, and a whole lot more. A whole lot in a little mailbox store, and it sort of has to be that way. The nearest UPS is about 6 miles out. Multiple towns will probably use Diane's Mail Room. Ted Griffiths is hoping that will be the case. His store is still young and business is already booming.
When asked what had inspired him to start a mailbox store, "I got laid off my job in May… my wife was in the process of dying of cancer, so I stayed home with my wife from May to August and took care of her. When she passed on I realized I didn't want to go back to work working for someone else, I wanted to start my own business. I got onto Franchise.com and I looked at numerous different franchise opportunities and some of them I thought 'well this is rather silly' they're going to make someone pay a big fee to start a carpet cleaning business? You can go down to Home Depot and buy the equipment and start your own carpet cleaning business without paying anyone a fee. I looked into a Hobby Store, a number of different things, then I found this company. No franchise fee. The only fee is what it costs to set up the business and that sort of thing. I don't have to wear anybody's corporate suit. I can do whatever I want with my store. So I started looking into this."
Ted may not have known which type of store he wanted to open, but he did know he wanted to be his own boss after the company he had been working for laid him off even as his wife was dying of cancer. He did a lot of research, "I hadn't even talked to anyone here yet (Discount Retail Store Services). I called the Better Business Bureau and asked them what they knew about Discount Retail Store Services, they told me what they knew. They were also able to give me information on other places that had started business through you folks, so I called a few of those—a couple in Texas, one in Illinois—and I talked to those owners, and I got all the information from them. Then I went online and looked to see if I could find anything online, you know, looking for bad comments. Well by the time I finished my research I basically called in here and said 'where do I send the money and let's get started.'"
The team at The Mailbox Store Inc, the mailbox store development branch of Discount Retail Store Services, began the process almost immediately.
Finding the right location was a key element to ensuring a successful mailbox business. "They sent me to all kinds of sites. They worked with me every step of the way, and when we finally settled on a site they did all the negotiations with the landlord and made the leasing very easy." Some of the areas covered included a one year warranty on the HVAC system, no relocation without compensation, and three months of free rent, along with an amazing location with no competitors in a six-mile radius. When negotiations began rent was at $1400/ month. By the end it was $966/ month along with three free months.
Training was another important area. Basic business knowledge, and in the case of mailbox stores, industry specific knowledge, would be needed in order to succeed. "The person who is training me is a person who has actually worked in the industry for a number of years so he has a very good understanding of USPS, UPS, FedEx, DHL, and the mailbox business in general. That made me very confident that I'm dealing with folks that know what they are doing. I've learned everything about how to do the shipping and the packaging and set up the cash register, that sort of thing… pretty much everything I could need."
When asked about going into a business like this without the training Griffiths stated, "I don't think it could be done."
So far Diane's Mail Room is doing great. It is located at 135 Jefferson Ave, Ste I in Buckley, WA. They are open from 9 am to 6 pm Monday thru Friday, 10 am to 6 pm Saturday, and closed on Sunday.
You can view some of Ted Griffiths Interview here.
Discount Retail Store Services is a business development company that has assisted nearly 3000 people in starting their own business since 1995. They specialize in Dollar Stores, Mailbox Stores, Teen Stores, $10 Clothing Stores, Party Stores, and Fitness Centers.