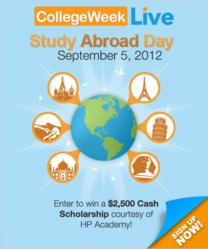 Tune in at 7:00 PM EDT to hear GoAbroad representatives answer your most pressing study abroad questions!
Fort Collins, CO (PRWEB) September 05, 2012
GoAbroad.com is thrilled to announce that Study Abroad Day has arrived. For students who are considering attending college outside the country, the GoAbroad team extends an invitation to join CollegeWeekLive today, September 5, 2012 from 2:00 - 10:00 PM EDT for Study Abroad Day. This free online event is dedicated to helping students decide if an international education experience is the right choice!
Whether students are interested in London, Vienna, Sydney, or other world-wide locations, Study Abroad Day provides the chance to do the following:
· Chat live with over 15 universities from around the world
· Get advice from study abroad experts, including GoAbroad.com, on financial aid, admissions requirements, and more
· Video chat with current students studying abroad to hear about their experiences
· Enter to win a USD 2500 Cash Scholarship courtesy of HP Academy
Representatives from GoAbroad.com will be presenting starting at 7:00 PM EDT on ten ways that study abroad will "ruin" your life--by changing it for the better! Students will learn why studying abroad in college is an opportunity filled with cultural enrichment and self-growth.
Click here to register for free and join the discussion today!
About GoAbroad
GoAbroad.com has been the web's premier resource for meaningful international experiences and alternative travel opportunities for more than a decade. The site boasts the largest and most comprehensive travel directories available online, while providing the most up-to-date and accurate information on programs available worldwide. GoAbroad.com's GoMedia services also offer a distinct range of internet marketing solutions for international education, including website design and comprehensive social media management.