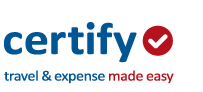 snap a photo of a receipt using Certify Mobile and ReceiptParseTM will automatically fill expense fields
Portland, ME (PRWEB) September 05, 2012
Certify, a leading provider of online travel and expense management software, today announced the general availability of ReceiptParse™ for use in the Certify Mobile and Certify web based applications. Certify ReceiptParse automatically extracts rich expense data from receipts in real-time. Certify users can now snap a photo of a receipt using Certify Mobile and ReceiptParse™ will automatically fill expense fields in seconds. ReceiptParse™ also works with Certify's eleven methods of receipt capture and interprets receipt images as actionable expense data, streamlining the process and saving users time.
Certify ReceiptParse™ is 100% technology-based with no human operators involved, extracting expense data from receipt images with zero lag-time. ReceiptParse™ is tightly integrated with Certify's user interface and workflow, delivering intelligent results of expense data and company specific details. Together with Certify's intuitive user interface and automatic expense report wizards, ReceiptParse™ raises expense report automation to a new level.
"ReceiptParse™ continues to deliver on the Certify promise of 'travel and expense made easy,'" said Robert Neveu, President. "We are pleased to make this expanded functionality available to all of our clients at no additional cost, and expand our position as a leading provider of travel and expense software."
By analyzing expense and receipt formats across the entire business expense landscape, Certify ReceiptParse™ achieves the highest parsing accuracy available anywhere. Global business travel spending habits, usage patterns and trending behaviors are analyzed with prediction algorithms to continuously improve results.
ReceiptParse™ is 100% native to Certify with no apps to install and no accounts to create. There are no additional fees and no usage limits. Certify ReceiptParse™ is available only from Certify, the world leader in receipt imaging for business travel and expense.
About Certify
Certify is the leading online travel and expense management solution for companies of all sizes. Organizations worldwide book travel and complete expense reports quickly, easily, and cost effectively using our mobile applications and web based technology.
For more information about Certify please call 207.773.6100 or visit http://www.Certify.com.