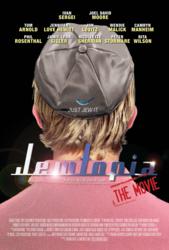 "We screen films we like, by filmmakers we believe in," David Katz, Festival Founder.
Malibu, CA (PRWEB) September 05, 2012
The 2012 Malibu Film Festival (MFF) proudly announces the Los Angeles Premiere of JEWTOPIA as its Opening Night film. The red carpet screening of JEWTOPIA will take place on September 22, 2012 at 7:30pm at Malibu Lumber Yard (3939 Cross Creek Road). The Opening Night gala reception will take place at Malibu Lumber Yard (3939 Cross Creek Road). The 13th annual MFF will run from September 22 - September 23, 2012.
Inspired from the international smash hit play seen by over a million people, JEWTOPIA (2012, USA, 89 minutes) stars Ivan Sergei, Joel David Moore, Jennifer Love Hewitt, Jon Lovitz, Rita Wilson, Tom Arnold, Peter Stormare, Camryn Manheim, Jamie-Lynn Sigler, Wendie Malick, Nicollette Sheridan, Phil Rosenthal, Christine Lakin, Hayes MacArthur and Lin Shaye. The story is about Christian O'Connell (Sergei) and Adam Lipschitz (Moore) -- two childhood friends who reunite as adults to help each other land the women of their dreams. Chris wants to marry Allison (Hewitt), a Jewish girl, so that he'll never have to make another decision for as long as he lives. Adam is on the verge of getting married to Hannah (Sigler), a woman he is not content with. When Chris enlists Adam's help in pretending to be Jewish so that Allison will date him, cultures collide and chaos ensues!
JEWTOPIA is the directorial debut of Bryan Fogel who co-wrote the screenplay, the stage play, and the best-selling book, Jewtopia: The Chosen Book for the Chosen People, with Sam Wolfson. The film is produced by Courtney Mizel (Tortilla Heaven), Pavlina Hatoupis (Sassypants, Frankie Goes Boom), Andy Fickman, (director of The Game Plan, Race to Witch Mountain, and the upcoming Billy Crystal / Bette Midler comedy Parental Guidance), Tucker Tooley, (Immortals, The Fighter, Mirror Mirror, Act or Valor, Haywire), and Bryan Fogel.
"It's been an incredible journey from what started as a little show in Los Angeles. I believe the film not only captures the outrageous comedy that made the stage play so popular, it also tells the universal story of cultures clashing and families getting in the way of finding true love. I'm thrilled to be having our Los Angeles premiere in the city that I live in and love, Malibu," stated director Bryan Fogel.
Following the screening, the Festival will host an Opening Night gala at Malibu Lumber Yard.
Tickets to the Opening Night screening and gala are $50 each and are available at http://www.malibufilmfestival.com starting September 5. Patrons can also purchase tickets to the Opening Night gala for $40 each. Guests must be at least 21 years old and cocktail attire is suggested.
The Malibu Film Festival is a boutique film festival that screens films we like; by filmmakers we believe in. The Festival offers filmgoers unique opportunities to mingle with celebrities, filmmakers from around the globe and film industry professionals in a beautiful seaside locale.
The MFF is sponsored in part by Toyota; Lilly Lawrence; Pierce & Keely Brosnan; Eat | See | Hear; Hollywood Tentworks; Wolk, Levine & Trotter, LLP; Entertainment Industry Foundation and the Katz Agency.
Passes and tickets for film screenings, galas and special events go on sale September 5. To purchase tickets and for information about the Toyota Malibu Film Festival visit http://www.malibufilmfestival.com MFF strives to be a green event, for each advanced ticket or pass sold a tree will be planted.
About the Toyota Malibu Film Festival
Celebrated as a boutique film festival, the Toyota Malibu Film Festival hand-picks and presents the best current independent films from around the world. Committed to entertaining the public, the MFF focuses on showcasing an eclectic mix of non-studio independent films. The 13th annual Toyota Malibu International Film Festival runs September 22nd – September 23rd and will spotlight up to 40 entertaining films from around the world.
Cast and crew from JEWTOPIA are scheduled to appear at the red carpet and screening. Press check in will be from 6:00pm - 6:30pm and red carpet arrivals will take place from 6:30pm - 7:30pm. The screening will commence at 7:30pm. All press must be credentialed prior to covering the Opening Night event. Press can register for credentials online at http://www.malibufilmfestival.com