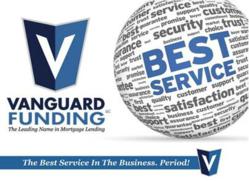 Vanguard Funding - The Leading Name in Mortgage Lending
Garden City, NY (PRWEB) September 05, 2012
The mission of Vanguard Funding LLC is to lead the way in mortgage lending. The corporate line "The Leading Name in Mortgage Lending" is what we believe in. The best service in the business, period! The company has always stood at the forefront in advocating and adhering to strict standards of honesty, integrity, transparency, competitive pricing, ensuring the highest quality service possible, and long term customer satisfaction.
Vanguard Funding LLC is owned by Brian Ofsie, President & C.E.O. Mr. Ofsie has over 17 years of experience in the Mortgage industry. Mr. Brian Ofsie believes that the support staff involved in the underwriting, processing shipping, and accounting are the key to a successful mortgage banker. Mr. Brian Ofsie is actively involved in the day to day operations of the mortgage bank and has assembled the best of the best to assist him in servicing all the needs of the loan officers, client's and center of influences.
Mr. Brian Ofsie recently added Richard Cacciatore Director of Reverse Mortgage Division. Richard has over eight years of lending experience with Reverse Mortgages and comes from Senior Lending Network. Two other recent additions are Leonard Ramirez – Operations Manager and Nancy Azzara - CFO. Leonard comes over from Hartford Funding, and previously, US Mortgage Corporation. He has over 15 years experience in operating a mortgage banker. Nancy Azzara comes with over 25 years of experience in mortgage banking. She has been the CFO for US Mortgage Corp for the past ten years.
Vanguard funding LLC corporate headquarters is currently located 15 minutes outside of Manhattan in Garden City, NY. Owned by President, and CEO - Brian Ofsie, and Centrally located, our corporate headquarters is only 15 minutes away from three major airports JFK, LaGuardia and Islip airports. All loan processing, underwriting, shipping, funding, closings, rate locks, post closing quality control and compliance are handled out of our headquarters. With over 20,000 sq feet of office space the company is set up to handle over 100 million a month in closings.
Press Release Submitted by SEO Company - Soni Consultants Inc.