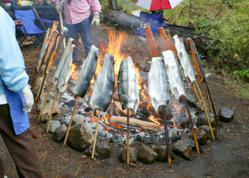 "It is a rare occasion that we stop and take time to recognize and celebrate the rich Native American culture that runs so deep here at Suttle Lake. I night of great food, good friends and the sharing of a beautiful heritage is not to be missed" -GM
Sisters, OR (PRWEB) September 08, 2012
On Saturday September 29th, The Lodge at Suttle Lake will be hosting a dinner to remember. In collaboration with The Confederated Tribes of Warm Springs. This landmark evening will not be one to miss.
Hosted in the landing overlooking the lake, guests will dine on wild salmon cooked on stakes over an open fire by tribe members and combined with indigenous dishes of the area, creating a celebratory feast to remember. As part of the celebration, Warm Springs Tribe dancers will be preforming during the dinner.
Pre-dinner mingling will start at 3:30pm on the back deck of the lodge and continue into the dinner hour starting around 4:00pm. Open no-host bar will be available from 3:30pm-7:30pm.
**For guests of The Lodge staying the night before, Wilson Wewa, will be speaking fireside at dusk on Friday September 28th, telling guests of the history of his people and stories past down through the generations. Not to be missed.
Long before Europeans set foot on the North American continent, the three tribes of the Warm Springs Reservation the Wasco, the Walla Walla (later called the Warm Springs), and the Paiute had developed societies beside the Columbia River, the Cascade Mountains, and other parts of Oregon. Although they have much in common today, each tribe has its own unique history and heritage.