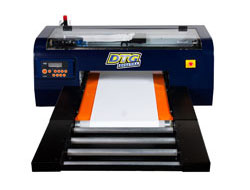 Tampa FL (PRWEB) September 06, 2012
Coldesi now offers new and used DTG machines from it's website DTGPrinterMachines.com. These machines are creating new opportunities for new businesses and those already in the silk screening business.
Direct to Garment or DTG is becoming then next big small business wave, both in traditional garment and online clothes-selling markets. With ability to print permanent, quality images right onto fabrics via Coldesi's DTG machines, whole new industry opportunities open up for those looking to start new ventures.
What makes DTG screening and heat presses different than silk-screening? First, the quality of image is tremendously better. Silk-screening in comparison is limited to a few colors. After too much saturation, the image becomes a mess. With DTG, multiple-color application is no problem because the Coldesi computerized application provides an accurate distribution of the inking for the final print results.
Second, t-shirts, pants, sweatshirts and more can all take DTG printing, as long as the fabric surface is smooth and not a broken-up weave, like a sweater, for example. DTG works particularly well for small batch jobs which are far more common with end-retail customers such as school teams, music fans, hobbyists and similar. Groups going to one-time, memorable events are particularly good customer targets for this sort of service.
Because Coldesi DTG supplies and equipment are so easy to use, they make potentially productive tools with which to start a new business easily at home or in a small workspace. Products can then easily be sold via online website or through face-to-face transactions.
Not only does DTG open up new graphic garment opportunities for existing businesses along with embroidery machines, it also creates new product lines for with low cost.
Contact: 877-793-3278
Coldesi.com