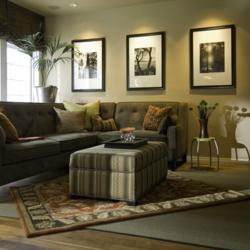 Layer a new wool rug or animal hide on top of an existing rug and you create an entirely new look.
Portland, OR (PRWEB) September 05, 2012
The change in season often inspires change to indoor living spaces. This is especially true as fall approaches and more time is spent indoors. There are plenty of simple ways to update the feel of a space that don't require a lot of time and money. Erin Davis, co-owner of Mosaik Design and Remodeling, a premier design and build firm in Portland, Oregon shares affordable home decorating tips to bring warmth and luxury into the home this fall:

Layer and Texture: Layering and adding texture is an easy way to give a room a cozy feel, just as we would add a scarf or sweater to our wardrobe. Try a new wool rug or animal hide on top of an existing rug or add a handmade blanket or quilt on top of your comforter and you create an entirely new look. Bring in cozy, textural elements like velvet pillows or a cashmere throw and you add comfort and a touch of luxury to any room. Natural fiber wallpaper is another interesting way to bring warmth and texture to a space.
Color: Introduce new colors into your palette that reflect the mood of the fall season. This can be with home accessories or a coat of fresh paint. For example, if soft blues and yellows dominate your décor, add greys, bronzes or dark chocolates to create an entirely new fall palette. If you have a neutral color scheme, try amethysts, wines, spicy reds or soft orange hues to add warmth and richness to your room. These warm, rich tones will evoke comfort year round. Try this method with a new entry rug, hallway runner, or window treatments. For something more permanent, introduce a high contrast color on cabinets, molding or a stair rail to make a high impact design statement that is sophisticated without breaking the bank.
Metallics: Bring in metallic tones to add elegance and a modern feel to your space. Gold, bronze and copper toned metals can bring warmth to your home. Metal toned nesting tables can make a wonderful addition if you entertain frequently and if space is at a premium. They can be placed in front of a sofa or chair and then stored away as a single end table when not in use. Lamp bases are another easy way to introduce metal tones. For something more dramatic, a pressed tin panel ceiling treatment is an unexpected way to introduce a metallic color.
Fireplace: If you are looking for a more permanent change, remodeling a fireplace is a great way to freshen up an entire space. Fireplaces tend to be the focal point in a room so even a minor change can make a big statement. Re-painting the wood or brick on the fireplace is an easy, inexpensive way to update the room, while a complete overhaul of the mantle, hearth and firebox will create an even larger impact. If you have a wood burning firebox, consider converting to a gas fireplace and you will get much more use out of it.
Kitchen: The heart of the home gets its fair share of use in the cooler months. Put away summer dishes, glassware and get organized for family gatherings and entertaining in this area. Organize kitchen clutter by introducing a sleek bulletin board to keep track of kids' activities and invitations or consider built in cubbies that can double as wine storage or to organize cookbooks. Also, don't forget to clean your oven to set the stage for those amazing comfort foods like casseroles and pot pies.
For more design and remodeling inspiration, visit the Mosaik Design & Remodeling blog at http://www.mosaikdesign.com/blog/.
About Mosaik Design & Remodeling
Mosaik Design & Remodeling beautifully updates Portland homes, kitchens, and bathrooms. Our top tier team offers a wide variety of timeless and sophisticated design styles, ranging from Pacific Northwest to French Country, from Urban Chic and Contemporary to Traditional and Craftsman. http://www.mosaikdesign.com