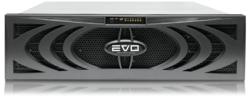 The EVO Share Browser provides a seamless staging ground for customers transitioning from other NLE software solutions allowing them to share and control access to their new Adobe Premiere Pro CS6 projects.
Amsterdam, Netherlands, IBC Conference Stand 7.A08 (PRWEB) September 07, 2012
Studio Network Solutions, Inc. (SNS) a leading provider of post-production storage solutions for video and audio workgroups, today announced enhanced features to its successful EVO shared storage servers to include project sharing for the Adobe® Creative Suite® 6.
EVO is Studio Network Solutions' turnkey shared storage server with SAN and NAS features. EVO provides high speed access to compressed and uncompressed HD media for multiple Adobe Premiere Pro CS6 software on Mac or PC. Configurable with multiple ports of 4/8Gbit Fibre Channel and 1/10Gbit Ethernet, EVO offers flexibility and performance. With EVO v4, SNS releases the EVO Share Browser feature, which allows users to dynamically share access to their Adobe Premiere Pro files. Customers using Adobe Premiere Pro CS6 can edit, share and protect all their digital asset and content over Ethernet, Fibre Channel and over the web via the cloud.
"SNS is very excited to enable Adobe Premiere Pro users the ability to share projects and VFX elements using our EVO Share Browser feature," stated Ryan Stoutenborough, President Studio Network Solutions. "Many of our customers are migrating away from older NLE solutions to Adobe Premiere CS6. The EVO Share Browser provides a seamless staging ground for the transition by allowing customers to share and control access to their new Adobe Premiere Pro CS6 projects as well as to any legacy Final Cut or Avid projects."
The EVO Share Browser feature is compatible with Apple's new Mountain Lion OS as well as Windows 7. Share Browser allows Adobe users greater flexibility and control over access to project and design files in a shared environment.
In addition to EVO's cross-platform support, advanced disk-provisioning features enable drives to be arranged into storage pools, each capable of containing one or more volumes. Individual volumes can each be assigned a discrete RAID level, providing the flexibility to choose what matters most: performance, reliability, usable space, or a mix of all three. iSCSI connected volumes can even be presented as Cloud storage where internet connections are fast. Further, EVO's NAS functions include support for sharing over AFP, SMB, SFTP, and NFS. The SFTP protocol provides remote access to content creators in the field as well as a secure file delivery method for clients. By including Fibre Channel, iSCSI and NAS into a single product, EVO assures that your workgroup will have the best tool for every aspect of a project.
EVO v4 with EVO Share Browser is available now. For pricing and information contact SNS at +1.314.733.0551 or sales(at)studionetworksolutions(dot)com.
###
About Studio Network Solutions (SNS)
SNS is a leading provider of shared storage hardware and software technology for Mac, Windows & Linux workgroups. For over 10 years SNS has been advancing workflow efficiency for the media and entertainment, broadcast, post production, digital content creation, game development, and education and government marketplaces. For more information visit, http://www.studionetworksolutions.com