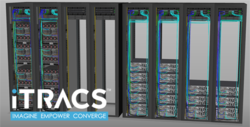 Customers can optimize the processes that support moves, adds, and changes; resolve service issues faster to keep their IT running at peak performance
Chicago, IL (PRWEB) September 06, 2012
iTRACS Corporation, Inc., the leading provider of enterprise-class Data Center Infrastructure Management (DCIM) solutions driving efficiency and strategic value in the data center, today announced a new level of efficiency, business continuity, and collaborative decision-making in the management of physical infrastructure.
The release of iTRACS Converged Physical Infrastructure Management™ (CPIM™) v2.6.0 offers iTRACS users a range of enhanced DCIM capabilities, including more robust asset discovery, real-time alarm monitoring for higher business continuity, and extended reporting features to accelerate collaborative decision-making in today's most complex infrastructure environments.
"This latest release extends the business value of iTRACS CPIM™ and helps decision-makers maximize their return on the DCIM investment," said Elizabeth Given, President and CEO of iTRACS. "Customers can optimize the processes that support moves, adds, and changes; resolve service issues faster to keep their IT running at peak performance; and collaborate on both tactical and strategic decisions using real-world insight to drive positive business outcomes."
Faster Time-to-Value: CPIM™ v2.6.0 streamlines the discovery of assets in the physical infrastructure, speeding time-to-value while reducing deployment costs. The enhancement optimizes the ability of the software to "see" new assets and map them inside of the virtual model powered by iTRACS' Interactive 3D Visualization. iTRACS eliminates the costs and delays associated with conventional asset discovery ¬for an accelerated build-out of the DCIM environment and efficient ongoing moves, adds, and changes.
Higher Business Continuity: CPIM™ v2.6.0 enhances the real-time monitoring and resolution of events that – if left unchecked – could compromise SLAs or lead to downtime. Threshold violation alarms can be triggered and fed from third-party vendors including power/environmental monitoring systems. Regardless of the source, these color-coded real-time alarms are made instantly visible in iTRACS' Alarm Manager, with detailed visualization of what is going on and what to do about it. Once the event is resolved and repair work is complete, iTRACS automatically notifies the user and updates the DCIM environment for a true closed loop.
Faster Insight for Better Decision-Making: Information is power, and CPIM™ v2.6.0 provides faster access to it. Commonly-used dashboards and reports providing key operational and strategic insight are created faster than ever and easily shared by stakeholders across the entire data center community – IT, Facilities, Building Management Systems, and Business. Decision-making is based on knowledge, not guesswork – and on teamwork, not isolated work. This is what DCIM is meant to be.
About iTRACS
iTRACS is the leading provider of enterprise-class Data Center Infrastructure Management (DCIM) solutions that drive efficiency, performance, cost savings, and strategic value in physical infrastructure. iTRACS Converged Physical Infrastructure Management™ (CPIM™) features the world's first and only holistic command-and-control of the data center using a navigable 3D environment. Interactive 3D Visualization – The Efficiency Engine™ is at the heart of the CPIM™ solution, unleashing new opportunities to create efficiency and business value in the design, management, and optimization of physical infrastructure. Today, CPIM™ is being globally deployed in some of the world's most complex enterprise infrastructures, including four of the seven industry-recognized global leaders in data center design and management. iTRACS is helping these organizations drive efficiency and optimize asset performance. Reduce costs. Leverage cloud, big data, and other game-changing technologies. And optimize the business value of the entire physical infrastructure investment. iTRACS is proud to be named a 2011 Gartner Cool Vendor in DCIM and an IDC Major Player in DCIM in the IDC MarketScape: Worldwide DCIM 2011 Vendor Analysis report.