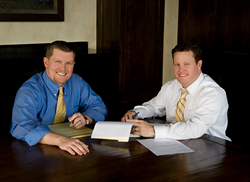 Salt Lake City, UT (PRWEB) September 05, 2012
A terrible car accident took the life of a woman who was a mother and a wife; she is survived by her husband and two children. The police report alleges the accident was caused by a driver who lost control of his vehicle on a major highway by clipping the shoulder of the road, pulling his steering wheel to the right. In an attempt to restore control of his vehicle he over-corrected to the left, which caused him to cross the median into oncoming traffic, crashing into the woman's vehicle. She died from her injuries at the scene of the accident. It was later verified by police that alcohol was involved.
In this accident, the husband lost a wife and the children lost a mother. Outside of other insurance settlements, Christensen & Hymas recovered $275,000.00 for the family in a wrongful death insurance claim from State Farm Insurance, which settled outside of court.
The attorneys offer their condolences to those who have lost loved ones in similar accidents and suggest that although the loved one cannot be brought back, a wrongful death claim is one way the financial stress of funeral costs, lost wages, pain and suffering, and medical bills can be compensated for; not to mention justice served for wrongful acts.
A wrongful death claim is a claim for damages and losses incurred due to the negligent actions of another. There are three requirements. The first requirement is someone must have died. The second is the death must be proven to have been caused by the negligent or careless actions of another person. The third is there must be an heir to claim those losses, such as a spouse, children, or close kin; anyone who would have received love, care, financial support, and emotional support is included. One major caveat to keep in mind is that there can only be one wrongful death claim made for the deceased; all heirs must collectively agree to work together under the same claim.
There could be up to two stages in a wrongful death claim, depending on the outcome of the first. The first stage is an insurance claim with an attorney's aid. The attorney acts on behalf of the heir to secure compensation for losses incurred. If the insurance claim cannot be resolved amicably between the attorney and the insurance company, the claim often goes into its second stage, which simply means a formal lawsuit is filed with the state's court with the possibility of the case being brought before a jury. The latter rarely happens due to its costly and long drawn out nature; both attorneys and insurance companies will often settle outside of court for these reasons.
Ken Christensen, owner of Christensen & Hymas, recommends to anyone who has lost a loved one due to negligence to hire a wrongful death lawyer. Insurance companies often low-ball clients by offering less than what is deserved. This may leave families destitute because the means the deceased brought in are now unavailable. With an experienced attorney, the tactics insurance companies employ to withhold money from clients can be avoided.
Good legal representation can be the difference between the family financial ruin that comes from losing what a loved one would have provided, as well as the costs incurred following such an event, and the peace of mind that comes from the financial security obtained through a wrongful death case for your family. Though financial compensation will never replace a loved one, at least the monetary burden will not be yours to bear.
About: Christensen & Hymas, Personal Injury Lawyer Utah
The personal injury attorneys at Christensen & Hymas represent clients who have been injured in car accidents, Utah bicycle accidents, dog bites, or a client who has lost a loved one in a wrongful death in Utah. They have won cases amounting to millions of dollars, which have ultimately enabled those who have been injured to better deal with the effects of personal tragedy that accompanies wrongful injuries. They have also written multiple free accident books, covering in great detail how to handle a personal injury and the repercussions therefrom.
If you have been the victim of burn injuries in Utah, call Christensen & Hymas today at (801) 506-0800 or visit their website at http://www.utahpersonalinjurylawfirm.com/.
Christensen & Hymas:
Main Office -- 11693 S. 700 E. Ste. 100, Draper, UT 84020 -- (801) 506-0800 -- Fax: (801) 506-0801
Utah County Office -- 584 S State Street, Orem, UT 84058 -- (801) 224-2999
Davis County Office -- 503 West 2600 South #200, Bountiful, UT 84010 -- (801) 294-9500