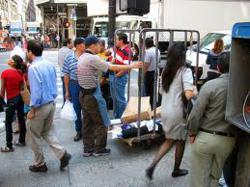 (PRWEB) September 05, 2012
The New York Fashion District wholesale market is now covered by a recently launched free online wholesale closeout guide published by CloseoutExplosion.com, a wholesale closeout export business that specializes in brand name overstock and store returns at below wholesale prices.
This informative guide covers the NY Fashion District, an area located in Manhattan that starts at 23rd st and Broadway and extends up to 34th st and Broadway, and encompasses 7th and 6th Ave. In the New York City Fashion District you will find a wide range of fashion designers such as Tahari, Jones New York, Rampage, and other up and coming clothing, shoe, and handbag designers. The area is also home to many fashion wholesalers, closeout brokers, wholesale showrooms, and importers.
CloseoutExplosion.com has published a free online resource that provides news coverage, wholesale product updates, tips, and wholesale buying strategies for store owners shopping in the New York Garment District. Because many wholesale showrooms are located above the ground level a shopper could face challenges in finding them. And even if a Nigerian boutique owner or a Bahamas clothing store owner came across a showroom, he or she could still require assistance in knowing how to obtain the best possible wholesale deals. It is for this reason that this wholesale closeout web site has been launched.
"Picture a businesswoman who owns a popular wholesale warehouse in Zambia. She takes a trip to the New York Wholesale District expecting to easily find wholesale showrooms for brand name dresses and suits. But as she starts walking the streets of the Garment District in New York she realizes that most of the street level showrooms are simply resellers or low priced retail stores, not the actual dress and suit wholesalers that she has heard about before taking her trip from Africa. The challenge is that there is no comprehensive New York Fashion district directory, which means that she, along with the hundreds of thousands of other visiting African, Caribbean, European, Asian, and Latin American wholesale buyers are working without a clear map. I have launched this site with all of these wholesale shoppers in mind," said Donny Lowy, who also runs wholesale closeout web sites for specific products such as wholesale dresses, shoes, handbags, and office suits.
In addition to the online wholesale guide offering free information to buyers, it can also be a great wholesale resource for sellers looking to learn how to connect with buyers of overstock and closeout merchandise. As the popularity of the Internet grows, wholesalers and closeout sellers can easily forget the importance of an actual wholesale warehouse where shoppers can visit and make their own selections. Even if a wholesale clothing distributor does not rent space in the area known as the New York wholesale market, he or she can use the published information to visit the area and obtain sales leads for their own closeout business.
The strong attraction that New York has for wholesale buyers, which definitely compares to the LA Fashion District, is in part based on the availability of transportation and the affordable hotels located right in NYC, and in the surrounding area, including New Jersey. There are also many New York wholesale shows that attract a steady stream of wholesale shoppers throughout the year, including the New York Gift Show, New York Fashion Week, JA New York Special Delivery Jewelry Show, Value and Variety Expo, and the Fashion Accessories and Closeout & Liquidation Trade Show.