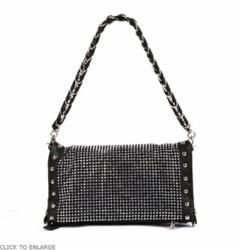 Dallas, TX (PRWEB) September 05, 2012
Fall is Just Around the Corner!
Dallas Designer Bobby Schandra Available to Discuss the Hottest Looks for Fall/Autumn/Winter 2012
Temperatures will soon be dropping, and that means it's time for a focus on fall and winter's hot new fashions. This fall/winter, turn to Dallas fashion designer Bobby Schandra to learn about the latest, greatest and hottest trends to look for in watches, handbags and jewelry.
Schandra, whose designs have been featured in publications from D Magazine to Modern Luxury to Vogue, knows the fashion industry and trends inside and out. Whether discussing high fashion from the runway or sensational looks for a night out on the town. (bobby's crystal clutch collection) Schandra has the inside track on what's new, what's hot – and what's coming.
"I've spent most of my life traveling, and that has provided so much of the inspiration for my designs," says Schandra, who combines cutting-edge designs with influences from around the globe. "I love and appreciate rich, vivid colors and ornate fabrics, and love to see how they play out differently from one year to the next."
Over the last 10 years, he has built Schandra's into a successful wholesale accessory business based out of the World Trade Center in Dallas. His fashion-forward handbags and jewelry have been seen on the red carpet and in such movies as "Twilight," as well as on television programs including "Vampire Diaries," "Jane By Design," "Entourage" and more. As an expert on every aspect of fashion, he can provide the tips your audience is looking for, offer advice on coming trends or help with audience style makeovers. Whether being called upon as a sole source of information or part of an expert panel, Schandra has the fashion know-how to inform, educate and entertain. In addition to his expertise in the fashion world, Schandra is also a sought-after speaker on retail and social marketing topics, and has also appeared on television and radio programs.
Now Bobby Schandra is making a splash in fashion with his new collection of watches!
Just in time for fall, acclaimed handbag and accessories designer Bobby Schandra is bringing back the classics. Schandra's new fall collection of watches is both classy and classic, offering a fresh new twist to some old favorites.
Big, oversized faces are all the rage, and these watches have dials with the style everyone has been looking for. Schandra's updated looks incorporate all the hottest new trends into his sensational designs. For the latest in fall fashion, Schandra's line of new classics come in Pantone's 2012 Fall Colors for a striking and unique approach to autumn, and if it's bling someone is looking for, they will find fabulous designs in tortoise shell and solid colors.
Whatever watch suits your look – matte, shiny, bright, tortoise shell – these fashionable watches have a style for everyone and are always in style. The new links have a rubberized finish for greater durability, and at these prices, you'll want to buy one for every outfit! From Designer Ipad messenger bags, Crystal iphone Cases, fashion watches to luxury Exotic python bags, Bobby's Accessories continue to hit the big screens of some of our favorite shows and celebrities.
If you're ready to let Bobby Schandra share this fall's "coming attractions" with your audience, contact him today!