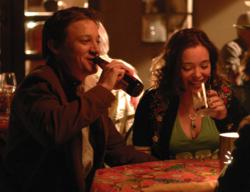 A terrific yarn, a uniquely American movie. Renner and Roberts are sublimely cast.
Could become an indie success story."
Lael Lowenstein - VARIETY

"Great Script and inspired performances."
Kim Voynar - MUSIC CITY NEWS
(PRWEB) September 05, 2012
INGENIOUS, an independent movie filmed in 35mm in Tucson, has turned to Kickstarter to raise funds for its theatrical release.
Starring two-time Academy Award nominee Jeremy Renner (The Bourne Legacy) and Dallas Roberts (The Grey), INGENIOUS has been in limbo for two years, waiting for finishing funds, and to take advantage of Renner's increasing popularity.
During that time, INGENIOUS, although shown essentially as a rough cut, became a festival hit. Featured in fifteen festivals, it was the Opening Night film at the Jerusalem and Cleveland Film Festivals and the Closing Night film at the Santa Barbara Film Festival. INGENIOUS also won Best Picture and Best Director awards.
Reviews from the festivals have been overwhelmingly positive:
"A terrific yarn, a uniquely American movie. Renner and Roberts are sublimely cast. Could become an indie success story."
Lael Lowenstein - VARIETY
"Great Script and inspired performances."
Kim Voynar - MUSIC CITY NEWS
"We have received a number of offers from major US distributors," said Brian Neufang with Arriba Films, "but didn't think they shared our enthusiasm for a wide release, which we feel this movie merits."
INGENIOUS is based on a true story about a small-time inventor (Roberts) and a slick salesman (Renner) who hit rock bottom before coming up with a product that becomes a worldwide phenomenon.
"But the movie isn't about the product," Neufang said. "It's about perseverance and overcoming hard times with humor. We're determined to prove," Neufang went on to say, "that good indie films can succeed outside the Hollywood system."
The INGENIOUS Kickstarter page, including the trailer and synopsis can be viewed at http://www.kickstarter.com/projects/529142360/ingenious-us-theatrical-release