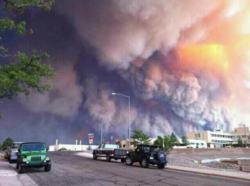 Colorado Springs, CO (PRWEB) September 05, 2012
The Las Conchas Fire struck near Las Alamos, NM in July of 2011. The fire quickly grew to record breaking levels and burned for over a month. Though the fire grew to over 150,000 acres, a relatively small number of homes were destroyed. As the flames died, however, worries grew for many nearby residents as they were left with homes contaminated by smoke, soot, and ash. Residents were left with property that smelled of barbecues, and would often have very hard to remove staining on the exterior and interior of their property. Beyond being difficult and costly to remove, these by-products of the wildfire presented dangers both to the properties and to the health of many families.
Though insurance companies quickly moved into the area and covered the loss of buildings, many insured individuals remained uninformed of coverage for smoke damage. Though nearly every home insurance policy written in the United States covers damage from fire and smoke, many residents received nothing warning them of the possible danger, notifying them of coverage for their losses, or settlements to provide for decontamination. In some cases, insurance claims that were filed were denied despite evidence of damage.
Loss Recovery Services (LRS) is a licensed Public Adjusting company that specializes in helping property owners to recover funds to decontaminate their homes following wildfires. As the flames receded, LRS moved into the affected areas, working to educate homeowners on the potential dangers, coverage issues, and working to help them maximize their recovery and overturn denials.
Smoke, soot, and ash contamination from wildfires is acidic in nature and can stain and cause corrosion to many building materials. Additionally, these contaminants are known to cause respiratory illness and cancer, representing a severe threat to the health of any person residing in a contaminated property. Though insurance carriers are quick to provide settlements for burned homes, in cases where this contamination is present some insurance carriers are reluctant to provide coverage, as contamination can be difficult to detect and can even be present sub-visually, though still at dangerous levels.
In a twelve month period, LRS processed over 2,500 claims, resulting in over $4 million recovered for homeowners. As fires continue to plague the Western United States, LRS continues to help property owners affected by contamination. "We are currently following wildfire contamination in several areas," says LRS President, Joshua Nussbaum. "There are numerous incidents in California, as well as several very large fires that have affected residents in Colorado." Any property owners who believe they have been affected or who would like more information can contact LRS through their website as well as through their profile on Facebook.
Loss Recovery Services, LLC is a public adjusting company originally licensed and bonded by the state of California (Lic. # 2G93517). Loss Recovery Services also holds licenses in Arizona (Lic. # 992281), Colorado (Lic. # 402634), Nevada (Lic. # 805146), New Mexico (Lic. # 100008543), and Washington (Lic. # 766051). If you have been affected by smoke, soot, and ash and are located outside of these areas please contact us for additional information. We are trained experts in recognizing and assessing smoke, soot, and ash damage. To maximize your recovery we fully investigate, present, and negotiate your claim with your insurance company on your behalf.