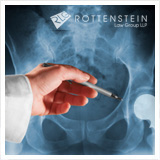 New York (PRWEB) September 05, 2012
Johnson & Johnson subsidiary DePuy Orthopaedics, manufacturer of several hip replacement devices—including the ASR Hip Resurfacing System and the ASR XL Acetabular System, both of which were recalled in August 2010—has now recalled all unused units of its custom orthopedic implants, according to an Aug. 23, 2012, article in the Wall Street Journal. The recall affects more than 8,300 custom orthopedic-device units, the WSJ reports, and stems from a December 2011 warning letter from the FDA requesting that DePuy "take steps to retrieve custom device implants that were ordered from DePuy Orthopaedics, but not implanted" because the agency "has concerns about DePuy Orthopaedics' interpretation" of the custom device definition.
"An orthopedics company might customize parts for a patient based on a physician's prescription, and these devices are exempt from approval requirements as long as they meet criteria that would limit their use," the WSJ article explains. "But the agency issued DePuy the warning letter because it didn't think DePuy was correctly interpreting the rules."
As a law firm that represents many clients who allege they were injured by devices manufactured by DePuy, the Rottenstein Law Group is concerned about the welfare of patients who received DePuy's custom orthopedic implants. Rochelle Rottenstein, principal of the Rottenstein Law Group, implores anyone with a friend or relative who has received a dangerous hip implant or other medical device to reach out to that person and recommend that he or she consult a physician immediately and then speak to a qualified personal injury lawyer. The Rottenstein Law Group maintains a DePuy Hip Recall Center at http://www.depuyhiprecallcenter.com. (Attorney advertising. Prior results do not guarantee a similar outcome.)
About THE ROTTENSTEIN LAW GROUP
The Rottenstein Law Group is a New York-based law firm that represents clients nationwide in mass tort actions. The firm was founded by Rochelle Rottenstein, who has more than two decades of experience as a lawyer, to represent clients in consumer product injury, mass tort, and class action lawsuits in a compassionate manner.
Contact:
The Rottenstein Law Group, LLP
Rochelle Rottenstein, Esq.
321 W. 44th Street
Suite 511
New York NY 10036
(212) 933-9500 (office phone)
(212) 933-9980 (facsimile)
rochelle(at)rotlaw(dot)com
http://www.rotlaw.com