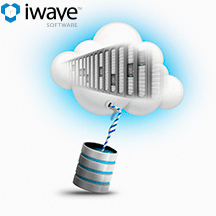 Frisco, TX (PRWEB) September 05, 2012
iWave Software, a provider of storage and cloud automation solutions, today announced a webinar series that will discuss the critical storage requirements and processes needed to support growing private cloud initiatives. The webinar, "Feeding Your Storage-Thirsty Cloud: 4 Critical Storage Processes to Automate," will take place on September 13 at 2:00 p.m. ET.
IT and storage administration teams are faced with the overwhelming challenges associated with increasing storage requests. At the same time, these teams are supporting private cloud initiatives that require a tremendous amount of storage capacity. Attendees of the webinar will learn how storage automation shortens fulfillment times, relieves storage administrators of burdensome tasks, eliminates error-prone manual tasks and allows the delivery of storage-as-a-service using existing infrastructure.
In addition, iWave Software's industry experts will cover how to:

Identify the top four critical storage automation processes;
Deliver storage services that can be consumed by cloud orchestration workflow tools; and
Add service fulfillment flexibility using intelligent storage policies.
Ron Smith, vice president of sales and marketing of iWave Software, said, "Storage-as-a-service is a hot enterprise initiative, but IT teams are grappling with how to manage the daily deluge of storage requests, much less support storage-hungry private clouds. With this webinar series, iWave will help IT and storage teams understand how to implement storage-as-a-service and identify the critical areas on which to focus as they start their initiatives."
The first in the company's Storage Automation Webinar series, "5 Keys to Delivering Storage-as-a-Service Without Losing Control," took place in early August. The recorded version can be heard here: http://www.iwavesoftware.com/webinar-signup-recorded-7.
Advanced registration is required. To register for the webinar, please click here.
About iWave Software
iWave Software provides storage and cloud automation solutions to enterprises, IT solution providers and OEM partners to lower IT operating costs, increase business agility and improve service levels. Its flagship iWave Automator product suite helps organizations streamline operations and easily install, configure and automate tasks associated with the provisioning and management of storage infrastructures, data centers, and cloud environments. Headquartered in Frisco (Dallas), Texas with offices in the United Kingdom and Canada, iWave Software is a privately held affiliate of the Hall Financial Group. For more information, please call iWave Software at (866) 92-iWave, or contact us on Twitter.
###