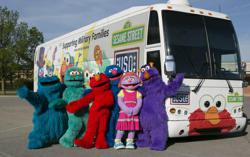 "Elmo is so excited to go to a baseball game and throw out the first pitch, but Elmo is even more excited that all his military friends and family will be there watching and cheering him on. Let's play ball!"
Arlington, VA (PRWEB) September 05, 2012
Sesame Street and the USO are thrilled to announce Walkaround Elmo will throw out the ceremonial first pitch at the Arizona Diamondbacks v. Los Angeles Dodgers game at Chase Field in Phoenix, AZ on September 12. Currently traveling through the state of Arizona visiting and performing on military installations, Elmo and friends are part of the Sesame Street/USO Experience for Military Families – a free traveling show created exclusively for military families. In support of the tour and in celebration of our nation's military community, the Diamondbacks graciously donated 150 game day tickets to USO Arizona to be distributed to local service heroes.
The Sesame Street/USO Experience for Military Families just wrapped up a visit to Arizona's Luke Air Force Base and Marine Corps Air Station Yuma, and will perform at Davis-Monthan Air Force Base Sept. 10-11, before heading to Fort Huachuca following its visit to Chase Field. Produced in partnership with VEE, this year's tour showcases the power of friendship when Elmo and his Sesame pals help Katie – a military child and the tour's newest character - open up about her fears and excitement as she deals with moving to a new place and making new friends.
The tour is now more than half way through its eight-month, stateside trek and since the tour's debut in July 2008, has taken its message to more than 324,000 troops and military families, and performed 564 shows on 139 military bases in 33 states and eleven countries. Just in time for back to school, the tour will continue making its rounds this Fall before officially coming to rest in mid November. To learn more about the Sesame Street/USO Experience for Military Families visit USO.org/sesame.
QUOTES:
Attributed to Sloan Gibson, USO president and CEO:
"We couldn't have hoped for a better partner than Sesame Workshop or picked a better month to kick off our latest phase than April, the Month of the Military Child. The USO has been supporting troops and their families for more than seventy-one years and this tour is a continuation of just that. With the help of friends like Elmo, Cookie Monster and Katie as well as happy songs, we are able to lift the spirits of our nation's military children like never before."
Attributed to H. Melvin Ming, Sesame Workshop president and CEO:
"The Sesame Street/USO Experience for Military Families is near and dear to the heart of Sesame Workshop, and we are thrilled to call the USO our partner on this adventure. Our goal is to reach as many military children and their families as we can with Elmo and Katie's messages of hope and resilience. And as we begin our sixth phase of this tour, we are proud to see the number of troops and their families reached by this effort only grow."
Attributed to Sesame Street's Elmo
"Elmo is so excited to go to a baseball game and throw out the first pitch, but Elmo is even more excited that all his military friends and family will be there watching and cheering him on. Let's play ball!"
Attributed to Katie, new Sesame Street character
"I hope all my new friends will help me, Cookie Monster, Grover, and Rosita cheer for Elmo as he throws out the first pitch at Chase Field!"
# # #
About the USO
The USO (United Service Organizations) lifts the spirits of America's troops and their families millions of times each year at hundreds of places worldwide. We provide a touch of home through centers at airports and military bases in the U.S. and abroad, top quality entertainment and innovative programs and services. We also provide critical support to those who need us most, including forward-deployed troops, military families, wounded warriors and their families and the families of the fallen.
The USO is a private, nonprofit organization, not a government agency. All of our programs and services are made possible by the American people, support of our corporate partners and the dedication of our volunteers and staff. In addition to individual donors and corporate sponsors, the USO is supported by President's Circle Partners: American Airlines, AT&T, Clear Channel, The Coca-Cola Company, jcpenney, Kangaroo Express, Kroger, Lowe's, Northrop Grumman Corporation, Procter & Gamble, and TriWest Healthcare Alliance and Worldwide Strategic Partners: BAE Systems, The Boeing Company, Lockheed Martin, Microsoft Corporation and TKS Telepost Kabel-Service Kaiserslautern GmbH & Co. KG. We are also supported through the United Way and Combined Federal Campaign (CFC-11381). To join us in this patriotic mission, and to learn more about the USO, please visit uso.org.
About Sesame Workshop
Sesame Workshop is the nonprofit educational organization that revolutionized children's television programming with the landmark Sesame Street. The Workshop produces local Sesame Street programs, seen in over 140 countries, and other acclaimed shows to help bridge the literacy gap including The Electric Company. Beyond television, the Workshop produces content for multiple media platforms on a wide range of issues including literacy, health and military deployment. Initiatives meet specific needs to help young children and families develop critical skills, acquire healthy habits and build emotional strength to prepare them for lifelong learning. Learn more at http://www.sesameworkshop.org.