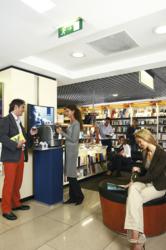 In Australia, we've seen sales of coffee capsule machines increase by 82% in the past 12 months.
(PRWEB) September 11, 2012
According to Blue Pod Coffee Co sales of coffee capsules have exploded globally in the past five years with retail volume in the US increasing by 523% from 2006 to 2011.
"In Australia, we've seen sales of coffee capsule machines increase by 82% in the past 12 months. Retail sales of espresso machines reached 500,000 units in 2011-12," explains Brian Chaitman, Director of Blue Pod Coffee Co, exclusive importers of Lavazza Blue and Espresso Point coffee capsules.
Blue Pod Coffee Co began importing Lavazza coffee pods into Australia seven years ago. Today they employ over 50 staff and have 15,000 customers.
Primary driver of this business success is their unique offer of a "free on loan" Lavazza coffee machine to homes and businesses. Customers must purchase the coffee capsules from Blue Pod, but there is no long term lock in contracts or agreements.
Once a niche product, coffee pod machines have become increasingly popular in workplaces as well as households. Blue Pod Coffee Co provides coffee machines to homes, offices, schools, retail outlets, warehouses, gyms, call centres, bookshops even canteens – anywhere where there is a demand for high quality Italian style coffee.
Blue Pod Coffee Co has an extensive range of Lavazza coffee machines, from small desk top coffee machines, espresso coffee makers, coffee vending machines to larger commercial style espresso machines and coffee machines. All use the Lavazza capsule system.
Brian attributes the rise of coffee capsules sales to its convenience and simplicity. "With consumers increasingly leading on-the-go lifestyles, coffee capsules are a quick and easy way to enjoy quality coffee at home or work. Coffee capsule machines allow consumers to brew a single serve cup of coffee similar in quality to the coffee purchased in local cafés."
Projected sales of coffee capsules and coffee machines continue to reflect their meteoric growth to date. It is realistic to envision capsule sales will continue to take market share from other coffee types, engraining coffee capsule in the global coffee culture.
About Blue Pod Coffee Co:
Blue Pod Coffee Co. is an Australian owned company offering FREE on loan coffee machines to homes and businesses using coffee capsule system.
The company operates in Sydney, Melbourne, Perth, Adelaide, Brisbane and country areas.
All staff are fully trained to provide expert service. The company also has a national team of technical specialists who are able to deal with all coffee machine issues.
Blue Pod Coffee Co. is a member of the National Vending Association (NVA).
Customers can keep abreast of the latest news with Blue Pod's Facebook Page.