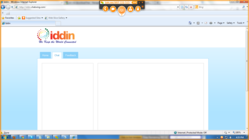 Miami, FL (PRWEB) September 05, 2012
Fast connection for communication is very important to every human being in this generation, especially when we talk about entrepreneurs who rely on the internet to promote and discuss the businesses and services they offer. Iddin has developed excellent communication tool in the form of random chat that suits this needs. This offers a vast ground for online friend seekers, love chat, online sellers and buyers and to all of those who just love chatting online. Through its expert developers, Iddin has created this intelligent chatting tool that convinced the different online communities such as Facebook and Yahoo mailers in supporting this online application.
Privacy would be certainly not an issue for Iddin chat, for they do not require any personal information in order to use the application. Random chat is basically a free chat tool of Iddin which is the same as all other chat applications, but, all of your chat mates would be a total stranger to you. It depends to the users as to whom should the user divulge his personal information. Without spilling their personal details, they can however upload picture, which comes attractive to other online users.
It has been noted that most users of Iddin chat widget are teens and adults who are looking for casual dates and spontaneous conversations. This web chat can hold up to hundred thousands of users, which greatly expands the reach of each users online. Iddin web chat has been used all over the world. This curtails the gap between people from different places with different culture. With this free chat, you can talk to anyone about anything without the fear of being judge from where you are coming from. However, if you no longer like to chat with your new found friend, you can always disconnect and recreate another chat room with another complete stranger. The ability to chat with strangers makes Iddin a popular online chat application tool. Not only that, Iddin is very easy to use, and definitely does not require any technical skills.
The Iddin development team is dedicated in providing a fun and wonderful online chat experience. To ensure that users will continue to discover this fascinating and enjoyable random chat, they tirelessly make researches on how to make the web chat more effective to users. The development team is looking forward to cater different online communities worldwide and increased global interaction and camaraderie through internet.
Soon, fresh ideas and concepts will no longer be contained in one area, but will soon be shared for the benefit of every individual from every corner of the world.
About Iddin
Iddin is a free web chat application that specializes in creating random chat with the other users all over the world. Users can choose the locations of the strangers they want to chat free with, or they can search the whole world. Random chat is encouraged to keep the identity of people and also to empower natural relationship that is simple, fun and interesting. Iddin chat application is absolutely free.