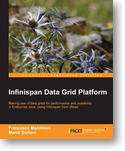 Birmingham, UK (PRWEB) September 14, 2012
Packt Publishing is pleased to announce Infinispan Data Grid Platform, a new book and ebook consisting of tips to configure and develop applications using the Infinispan Data grid platform. Written by Francesco Marchioni, a Sun Certified Enterprise Architect, and Manik Surtani, founder of the Infinispan project, this book will help readers discover the advanced modules provided by Infinispan, such as the Query module and the Asynchronous API.
Infinispan is an extremely scalable, highly available key/value NoSQL datastore and distributed data grid platform - 100% open source, and written in Java.
The Infinispan Data Grid Platform book provides guidance to the reader to progress from examples of adding, removing, and evicting data from a cache, to more complex scenarios such as clustering and distributing data more efficiently in the grid. It demonstrates the integration of the Infinispan data grid platform with JBoss AS 7.
The book tackles topics like Installing, Using Infinispan Core API and Introducing Infinispan Configuration. Developing Advanced Configurations, monitoring Infinispan and extending and customizing Infinispan are some other topics covered in the book. The reader will also discover advanced topics like JTA compliant transactions, clustering, and locking/concurrency patterns in a cluster.
The book takes a hands-on approach on how to use each of Infinispan's features in the real-world. Lots of practical examples and screenshots will help to get to grips with Infinispan quickly and easily. This book is for Enterprise developers and architects who want to use a distributed caching and data grid solution. Prior programming knowledge of Java and a general familiarity with concepts like data caching and clustering would be necessary.
The book is out now and available from Packt in print and popular eBook formats. To read more about it and download a sample chapter, please visit the Packt web-page.