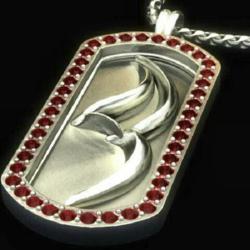 We wanted to memorialize Chris Hamer in a piece of jewelry so the family could always have him near their hearts.
Scott Tischler
Gilbert, Arizona (PRWEB) September 05, 2012
Scott Tischler and Damon Washington unveil the new Chris Hamer 23 in memory of the recent passing of Chris Hamer. Scott Tischler Conscience Charity commissioned renowned designer, Damon Washington to create a piece of jewelry to memorialize Chris Hamer and his recent passing.
Scott consulted with family members to bring out important themes in the life of Chris Hamer. Chris loved basketball, and his number was 23. Cardinals are the mascot for his school, and his favorite color is red. Damon has done a magnificent job of incorporating these themes into a special pendant.
Scott Tischler's Conscience Charity is pleased to present the design to the family members and have started the production of the piece and look forward to the presentation of the final work of art.