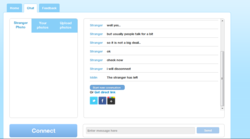 New York, NY (PRWEB) September 05, 2012
Iddin has revolutionized online chat by launching a free web chat application which specifically activates random interactive and spontaneous chatting. This application gains a great deal of popularity especially among people interested in dating and relationships because of its global reach and its one click access. Love chat is made more interesting with the improved photo upload feature of the web chat application.
Every day, men and women from all over the world look for online dates. Many people are attracted to using the Iddin's free chat tool because of its international reach, a large client capacity – up to one hundred thousand users, and ease of access. Even with the high volume of web chat application users, Iddin's chat platform is still running smoothly. With the random chat Iddin is offering, the photo upload feature helps people find dates and new friends. Even without presenting personal information, sharing photos build up the interests of people to stay in conversations for a longer period of time because there is a more intense feeling of connection when people see the faces of who they are talking to online.
Men and women can also engage in interesting love chat with other strangers as well. Users can immediately chat with a stranger without having to give out their name, location, age, and other personal information. Those who likes to engage in flirting, they prefer to keep their personal details confidential, however, it is under the user's discretion to share his/her personal details or not. The user may reveal his/her personal data as soon as he/she feels doing so. The user can also connect or disconnect at his/her discretion. Once a user is disconnected, he/she can reconnect right away. This saves a great deal of time as compared to other web chat platforms which requires ample time for reconnection to a chat room.
The random chat provided by Iddin has gained positive response to those who cares for their privacy. The automatic creation of a chat room for two strangers provides the privacy giving the chance for two strangers to engage in whatever topic they want to embark upon. But whenever conversations go wrong, Iddin's web chat tool also enables users to block a stranger making the application preferable especially to block obscene users. With Iddin's online chat application, users can engage in free chat with just one click. The Iddin's web chat application can be used instantly without requiring a download of the chat application. To start creating a chat room, there is no need to sign up or register, and even to log in.
About Iddin
Iddin is a free web application that specializes in generating random chat with strangers. Users can choose the locations of the strangers, or they can have the engine to search the whole world. Random chat is encouraged to protect the identity of people and also to empower spontaneous connection that is fun and interesting. Users can visit http://www.iddin.com to discover its features.