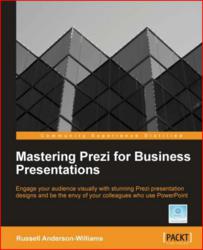 Birmingham, UK (PRWEB) September 08, 2012
Packt is pleased to announce Mastering Prezi for Business Presentations book and e-book. Written by Russell Anderson-Williams, one of the fourteen experts hand-picked by Prezi, this book covers all of the technical elements of the software, whilst also looking at the practicalities of using Prezi in a business environment and teaches the reader how to think for Prezi, and approach their design in the best way.
Prezi is a cloud-based presentation software that opens up a new world between whiteboards and slides. The zoomable canvas makes it fun to explore ideas and the connections between them. The result: visually captivating presentations that leads the audience down a path of discovery.
Mastering Prezi for Business Presentations starts of with the best practices for inserting imagery, sound and video. It follows with building an approach to Prezi Design, projecting, designing Prezis for online delivery, importing slides and using it in iPad and Android devices.
Furthermore, the book provides advanced solutions for business users like collaborating and sharing Prezis online, using Prezi at a meeting to brain storm with overseas colleagues, and how to 'Prezify' PowerPoint or Keynote slides.
Written with plenty of tips and tricks, this tutorial style book has ample examples and screenshots. This book is ideal for users who would like to take their presentations to the next level, or if they want to become the office Prezi guru. The book is out now and available from Packt in print and popular eBook formats. To read more about the book and view the complete table of contents, please visit the Packt web-page.