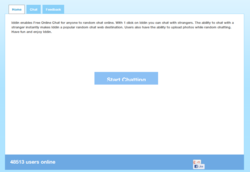 Atlanta, GA (PRWEB) September 06, 2012
With the fast-paced world we are living in, many people don't seem to have a life aside from their own homes and schools or workplaces. Many people don't have the precious time to meet their families and friends anytime they want but chatting online allows us to connect with families and friends at our very homes even if we are doing other tasks at lesser expense as compared to making long distance calls. Every person needs to have an outlet for his/her ideas.
Online chatting also caters to this need of people to exchange thoughts and views with other people making online chat popular until these days. As a matter of fact, chat tools are being used by popular social networking sites because of this need of people for interactive communication. Iddin enables anyone, anywhere to enjoy free chat without going through the usual seemingly tedious process of having to either download a chat tool or register online before engaging into a web chat – just one click, and, voila! – anyone can chat free in an instant.
Online chatting provides a way for friends to talk even if they are miles away. It also allows any person to meet new friends. But to some, they prefer to be anonymous when they share their opinions with others online for reasons like being shy or being afraid of being singled out if their true identity is revealed. With being anonymous to the person connected with in the chat room, anyone can be like special friends to any person sharing the same interests without entertaining the unhealthy practice of discrimination as to race, physical, or other types of prejudice, thus cultivating diversity. Social networking sites expose the personal information and even photos of the user when using their web chat tool. Iddin has offered this unique and interesting random chat feature in which after the one click made, Iddin automatically connects the chatter to a stranger from a specific country or someone from anywhere in the world. The user can stay private and keep his/her personal details confidential as he/she wants. This feature is especially encouraging to those who are into love chat. It would be fun and exciting to build relationships online by concealing first the true identities and revealing later as the involved persons get comfortable to reveal their personal information. Moreover, Iddin provides spontaneous communication as soon as two strangers are connected which makes chatting more fun to both chatters.
About Iddin
Iddin is a free web application that specializes in generating random chat with strangers. Users can choose the locations of the strangers, or they can have the engine to search the whole world. Random chat is encouraged to protect the identity of people and also to empower spontaneous connection that is fun and interesting. Users can visit http://www.iddin.com to discover its features.