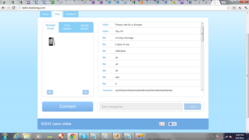 Chicago, IL (PRWEB) September 06, 2012
Chicago, IL - It is very undeniable how Facebook conquered the whole world in producing an online community. Because of this fact, wisely, Iddin has decided to launch Free Random Chat for Facebook enthusiasts in order to easily spread the flexibility of this chat application. This step made by Iddin ensures every user of this chat online will have an unthinkable and limitless possibility of having the greatest online chatting experience of their lives because of the fact that Iddin got the largest online community.
Using the leverage of Facebook, Iddin has obtained the best opportunity in introducing Random Chat to the online community. Through this, Iddin has gained confidence that every Facebook user would see the impressive satisfaction in utilizing Random Chat, for this can offer Entrepreneurship, Friendship, Love, Socialization or for just simply killing the time to every users.
Being able to touch base with Facebook increases the online visibility of users. We are aware that Facebook is now being used by individuals of all ages, from different places, embracing different cultures. Users do not need to reveal their true identity. This is the beauty of random chat. Users have the power to choose to find someone to whom they can divulge their personal information.
With this development, it is expected that once you start free chat with iddin, you can find someone to chat with in a short period of time. Iddin free chat can handle more than one hundred thousand users online. This increases the reach of users in the online community. Iddin curtails the gap between users from all over the world. Once you find someone whom you share the same interests and passion with, where you are located and whatever race you are from does not matter anymore. Random chat increases global communication synergy through the internet.
The chat widget being used is very user friendly and does not need technical skills. With one click on Iddin you can chat with strangers. The ability to chat with a stranger instantly makes Iddin a popular random chat web destination. Users also have the ability to upload photos while random chatting.
Iddin development team is dedicated in continuously researching and developing this web chat application for the benefit of its users. The development team is committed to creating an enjoyable and interesting ways to random chat. Updates and repairs are being done time and again to ensure that users will be able to take advantage of the full services this web chat application has to offer.
About Iddin
Iddin is a free web chat application available to different types of users, from teens to adults. Users have the option to choose the location of the stranger or, they can simply let the application choose random strangers from all over the world. Random chat is becoming popular as it protects the identity of its users. Users can visit iddin.chatwing .com to discover a fun and exciting way to online chat.