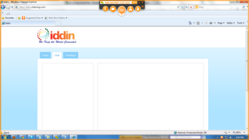 Boston, MA (PRWEB) September 07, 2012
Known for its spontaneity and global connectivity, Iddin's free chat tool has gained positive response from internet users around the world because of the new experience Iddin has brought about as they introduced random chat. Anyone who enjoys engaging in online chat could truly appreciate how fast and easy it is to enter a chat room and be connected to a stranger from a specific country selected by the user or be involved in a conversation with a stranger from anywhere in the world. After selecting the desired location of a stranger someone would want to have online chat with, the user will have to do only one click, that is, click Start chat, and Iddin automatically chooses a random stranger for the user and the online chat room will be automatically created.
Iddin's web chat application has caught the attention of men and women, young and adults alike, particularly those who are interested in meeting new friends from around the globe and those who are seeking dates from the online community. Online chat in Iddin is made more interesting because of the privacy filter in which users are not required to share their personal information to the stranger they are having online conversations with. This is especially attracts those who believes that their identities should not be divulged to a stranger particularly over the internet. But because it is highly anticipated that friendships and romantic relationships can bloom from the love chat brought about by Iddin, aside from the option of the chatters to reveal their personal details, they can also share their Facebook and Twitter accounts for them to get to know more about each other.
Another attractive feature of Iddin's free chat application is the photo sharing section in which the users can upload their photos for their chat mates to see. It has been proven from chatters' experiences that strangers who chat online stay in longer conversations if they have a picture of who they are chatting with. With Iddin's free web chat application, strangers could easily disconnect, reconnect, and even block strangers whenever they feel necessary. In instances where users find problems using the site or if users find any bugs, users can send out an email to the Iddin staff by filling-up the form provided on the site's "Contact Us" tab. The Iddin team works round the clock to maintain the efficiency of the chat tool.
About Iddin
Iddin is a free web application that specializes in generating random chat with strangers. Users can choose the locations of the strangers, or they can have the engine to search the whole world. Random chat is encouraged to protect the identity of people and also to empower spontaneous connection that is fun and interesting. Users can visit http://www.iddin.com to discover its features.